A quick stroll through the mall will prove just how ugly it is out there in retail mall land. Popular retail stores are without customers while their shelves are scattered with liquidation sales preempting a company-wide shutdown. Even well-established department stores that once dominated the shopping industry can't seem to keep it together for much longer. Those who wait to start their holiday shopping until December this year could find themselves with a lack of options, minus a select few.
Here are 11 department stores that are on thin ice followed by four others who are standing tall among all.
1. JCPenney
It's been a rough 2017 for JCPenney. After closing upward of 130 stores, it announced a disappointing update to its third-quarter sales figures in October 2017. This sent shares spiraling downward by 20%. Desperate attempts to introduce more "causal and contemporary" women's wear into the mix have failed.
It remains to be seen if JCPenney's ventures into makeup and home appliances divisions will spark some life into the department store, as it's partnered with Food Network Star Aisha Curry and reality TV Show Project Runway to stir interest on the sales floor.
Next: A store that blames the weather for its poor performance
2. Kohl's
The profitable back-to-school hubbub may not be enough to rescue Kohl's from impending doom. A run on backpacks and pencils got the chain through September, but the holiday retail burst remains questionable at Kohl's. A 20% decline in 2017 sales is a tough pill to swallow — even if the addition of Under Amour products are forthcoming. The CEO blamed abnormal weather conditions for the slump in profits, so it's unlikely the dreary winter months ahead will do anything to help the chain.
Next: A store selling out with the times
3. Lord & Taylor
It's a telltale sign that your store is struggling to attract customers when you sell your flagship store on Fifth Avenue. Unfortunately, that's exactly what Lord & Taylor, which has been in business since 1826, is doing. The client is WeWork, a rental co-working office space venture that perfectly describes the trends of the future. Retail is dead, and so are traditional work environments.
Next: A store that is in desperate need of financing
4. Nordstrom
Like many other struggling department stores, Nordstrom is hoping for a miracle this holiday season before facing reality in 2018. It has temporarily suspended efforts to go private after struggling to get appropriate financing. "Nordstrom is a high-quality retailer, but it is still an apparel retailer, and that becomes difficult to finance," Tom Shandell, chief executive officer of Marble Point Credit Management tells Bloomberg.
We'll see if the chain's newest idea to spark loyalty works. Nordstrom Local will offer free consultations with personal stylists, who will advise customers virtually and then ship the merchandise in-store.
Next: Again with the weather excuses
5. Bon-Ton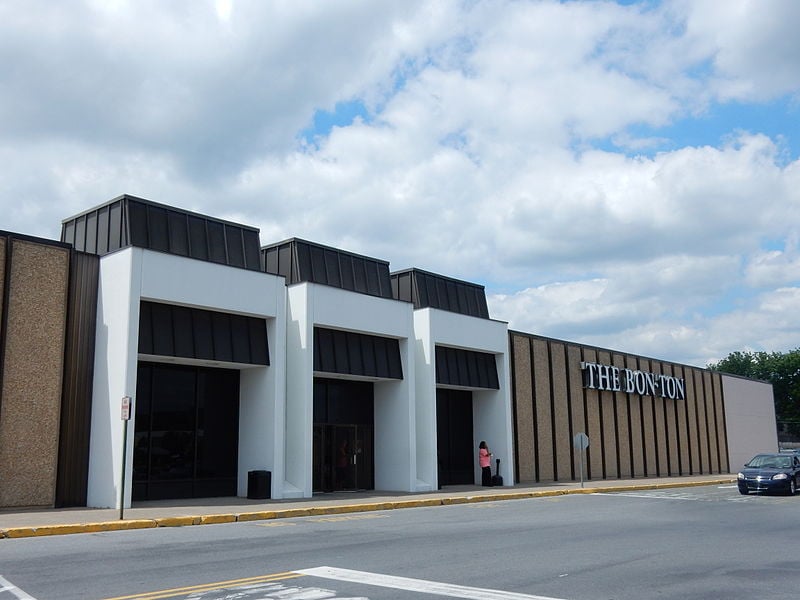 The struggling Bon-Ton chain will cut ties with at least 40 underperforming stores in 2018, a sizeable chunk of its 260 total retail locations. This comes after the confession that third quarter same-store sales fell 6.6% and winter apparel by more than one-third. Head honchos are blaming unseasonably warm weather for butchering their cold-weather apparel sales.
Next: The hits just keep coming for this department store
6. Sears
Things just keep getting worse for Sears — 2017 hasn't quite been a banner year for the company, and it just announced the closing of another 18 stores in January 2018. The retailer is on its last leg as consumers flock to other options for their household needs. To pay into its $407 million underfunded pension plan, it may sell off 140 stores in a deal with the Pension Benefit Guaranty Corp. According to Fortune, the PBGC is a government oversight organization that guarantees individuals' pension and serves as a backstop in the event a company goes bankrupt.
Next: A last ditch effort?
7. Macy's
Everything associated with the retail apocalypse has been hitting Macy's where it hurts — repeatedly. E-retailers (cough, Amazon, cough) have forced the department store chain to close countless stores and admit to a 50% loss in shares throughout 2017. Their attempts to rebrand via Backstage, a thriftier shopping option, could help profits during the holiday season. Maybe.
Citi analyst Paul Lejuez says Macy's "has seen significant pressure on sales/margins for several years, they no longer make much money as a retailer." Only time will tell if Macy's is truly down for the count.
Next: A second-hand casualty
8. Carson's
Carson's, a Midwest department store, will become another unfortunate casualty in the Bon-Ton, Inc. closures. (In addition to Bon-Ton and Carson's, the company also operates Boston Store, Younkers, Bergner's, Elder-Beerman, and Herberger's.) Its sad story is one we've heard before. The company missed its yearly sales targets by a mile, leaving them no other option but to cut ties with their most underperforming stores to hopefully live another day.
Next: Speaking of Boston Store…
9. Boston Store
Boston Store, Carson's, Bon-Ton — they're all in jeopardy of going under if they don't do something to attract more customers through their doors. This Wisconsin-based store is feeling the pressure of Amazon's prowess and with its headquarters in deep trouble, it looks like Boston Store days are numbered.
Next: Happy employees at this store could be temporary
10. Neiman Marcus
Fitch Ratings added Neiman Marcus to its "loans of concern" watchlist in October 2017 thanks to its total outstanding loan balance of $2.8 billion. They've been selected as the department store with the happiest employees of 2017 by CareerBliss, but that's likely to fall if the company announces impending store closures. They've already closed 25% of their outlet stores this year due to debt balances.
Next: Liquidation sales at this next department store
11. Kmart
Kmart has been dying a slow death for years now. Considering how grim Sears' future looks, it's no surprise Kmart's destiny is following suit (it's also owned by Sears Holdings). January 2018 will bring another round of shutdowns as the company trims the fat and "continue[s] to right size [its] store footprint in number and size."
Thrifty customers will want to take advantage of upcoming liquidation sales, but foot traffic remains to be the store's biggest issue, so who knows if even bargain prices will help profits even slightly.
Department stores that are thriving
Amidst all the doom and gloom, there are a few department stores that are bucking the trend. Here are four retailers whose outlook remains promising.
1. TJ Maxx
With its low prices on high-end brands, TJ Maxx has managed to dodge all potential apocalyptic doom. It's summer sales increased by 6%, despite many of its competitors admitting to significant loses. TJX Companies, owner of T.J. Maxx, Marshalls, and HomeGoods plans to open 1,300 new stores moving forward.
Next: Experts expect big things from this next store
2. Burlington Coat Factory
One department store has something to say before experts give Amazon all the glory. Morgan Stanley anoints Burlington, previously known as Burlington Coat Factory, one if its top stock picks this holiday season. The popular department store has posted same-store sales growth of 8.9% over the last two years. Plus, Burlington has managed to increase consumer traffic in 10 out of the last 12 months in-store — causing competitors to go green with envy.
Next: Discount department store brimming with customers
3. Ross
This off-price apparel merchandiser is beloved by savvy consumers. Seeking Alpha credits the department store's success to its ability to operate a no-frills store format that results in prices 20% to 60% below those of similar stores. Combine that with a strong rotating inventory selection and they've scored a customer base with a "buy now" mentality. Such growth could pose a serious threat to Amazon and other discount chains.
Next: A store that is expanding in secret
4. Von Maur
This popular Midwest department store chain continues its quiet expansion while competitors implode. Now there are 35 stores spread across 15 states, including New York, Oklahoma, and Missouri. A thriving e-commerce model also helps keep them in the black year-round.
President Jim von Maur attributes success to their standards, suggesting quality merchandise at a fair price and providing great service never goes out of style out of style.
Follow Lauren on Twitter @la_hamer.
Check out The Cheat Sheet on Facebook!