A quick stroll through the mall proves how ugly it is in retail land. Once-popular stores lack customers as they advertise liquidation sales, preempting company-wide shutdowns. Even many well-established department stores that once dominated the shopping industry can't seem to keep it together.
Here are 11 stores on thin ice, including one iconic department store that is failing to attract customers (page 9).
1. Neiman Marcus
Fitch Ratings added Neiman Marcus to its "loans of concern" watchlist in October 2017 due to its total outstanding loan balance of $2.8 billion.
Although CareerBliss reported the department store had the happiest employees in 2017, others report Neiman Marcus will likely fall out of favor with its retail workers if the company keeps closing stores. They already closed 25% of outlet stores last year due to debt balances.
Next: A trendy business concept replaced this flagship location.
2. Lord & Taylor
A telltale sign of a struggling store: When it sells its flagship location on Fifth Avenue in New York City. Unfortunately, that's exactly what Lord & Taylor, which has been in business since 1826, did.
The client who moved into the space, WeWork, is a rental co-working office space venture that perfectly embodies the trends of the future. Retail is dead, and so are traditional work environments.
Next: This store's desperate move didn't pan out.
3. Nordstrom
Nordstrom hoped for a miracle during the 2017 holiday season, but it didn't happen. As Forbes detailed, "The Nordstrom family, wanting to ensure the survival of their family legacy company, sought to buy out the public shareholders." Sadly they couldn't agree with the committee about the value of public shares, so the company faces an uncertain future.
If Nordstrom became a private company, it could freely experiment with new retail practices. Instead, the public company must rely on more consistent ways to earn, like its new program, Nordstrom Local, which offers free consultations with personal stylists, who will advise customers virtually and then ship the merchandise in-store.
Next: Take advantage of this retailer's liquidation sales.
4. Sears
Things keep getting worse for Sears; 2017 wasn't a banner year for the company, and it closed another 18 stores in January 2018.
As consumers flock to other options for household needs, Sears announced nine more closures, with employees receiving letters explaining that their last day of work would be July 29 at the latest. Liquidation sales at those California, Iowa, Illinois and Nevada locations began in April. This action coincides with Sears' effort to pay into its $407 million underfunded pension plan.
Next: This store needs to rely on the "magic of money."
5. Macy's
Everything associated with the retail apocalypse has been hitting Macy's where it hurts. E-retailers (cough, Amazon, cough) have forced the department store chain to close countless stores and admit to a 50% loss in shares throughout 2017.
Citi analyst Paul Lejuez says Macy's "has seen significant pressure on sales/margins for several years, they no longer make much money as a retailer." Only time will tell if Macy's is truly down for the count.
Next: Walmart destroyed this retailer's competitive edge.
6. Kmart
Kmart has been dying a slow death for years now. Considering how grim Sears' future looks, it's no surprise Kmart's destiny is following suit (it's also owned by Sears Holdings). Early 2018 brought another round of shutdowns as the company trims the fat and "continue[s] to right size [its] store footprint in number and size."
Thrifty customers will want to take advantage of upcoming liquidation sales, but foot traffic remains to be the store's biggest issue. Who knows if bargain prices will help profits.
Next: Shoppers no longer "expect great things" from this well-known retailer.
7. Kohl's
Thanks to back-t0-school shoppers, a run on backpacks and pencils got the chain through September 2017. Unfortunately, a 20% decline in sales that year was a tough pill to swallow — even as Kohl's added Under Amour products to the store's offerings. The CEO blamed abnormal weather conditions for the slump in profits.
Next: Can celebrity partnerships save this store?
8. JCPenney
It's been a rough year for JCPenney. Desperate attempts to introduce more "causal and contemporary" women's wear into the mix have failed.
It remains to be seen if JCPenney's ventures into makeup and home appliances divisions will spark some life into the department store, as it partners with Food Network Star Aisha Curry, Blackish's Tracee Ellis Ross, Olympic gymnast Laurie Hernandez, and reality TV show Project Runway to stir interest on the sales floor.
Next: As of April 2018, this company is toast.
9. Bon-Ton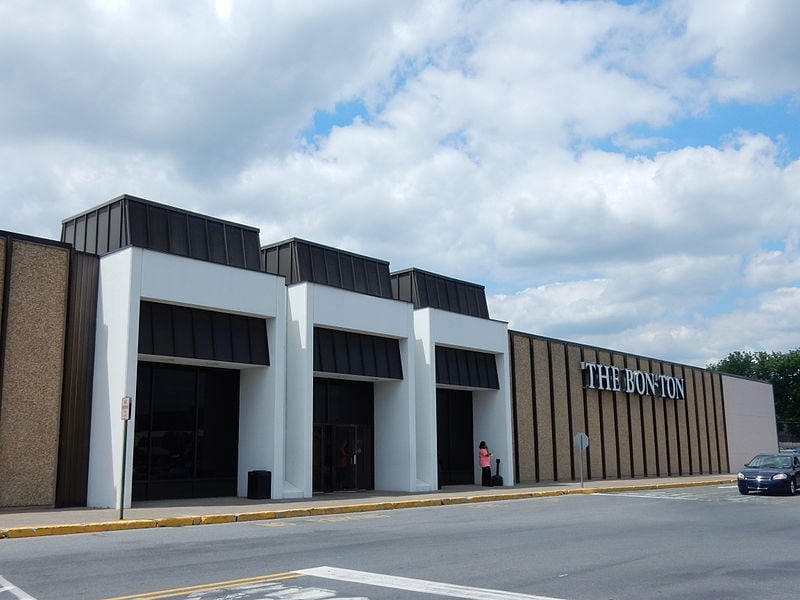 In late 2017, head honchos at Bon-Ton Stores Inc. — a department-store chain founded in 1854 — blamed unseasonably warm weather for butchering their cold-weather apparel sales. But the changing landscape of e-commerce proved to be an issue too; all the problems came to a head in April 2018.
The chain of department stores applied for bankruptcy protection in February. When it did not find a buyer, Bon-Ton announced plans to close all 256 stores in 2018, which will affect its 23,000 employees across the country.
Next: A second-hand casualty of the Bon-Ton announcement
10. Carson's
Carson's, a Midwest department store, is an unfortunate casualty in the Bon-Ton, Inc. closures. (In addition to Bon-Ton and Carson's, the company also operates Boston Store, Younkers, Bergner's, Elder-Beerman, and Herberger's.)
We've heard this sad story before. The company missed its yearly sales targets by a mile, leaving them no other option but to cut ties with their underperforming stores. Its going-out-of-business sales will last 10 to 12 weeks.
Next: Another retail casualty creating more unemployed workers
11. Boston Store
This Wisconsin-based store felt the pressure of Amazon's prowess. Now it must admit defeat. Its parent company, Bon-Ton Stores, Inc., filed for bankruptcy. According to CNN, "The rise of e-commerce and the downfall of malls is largely to blame." This is the future of retail.
Department stores that are thriving
Amidst all the doom and gloom, a few department stores are bucking the trend. Here are four adaptable retailers with promising outlooks. They identified what needed to change to see continued success. We recommend relying on them for your shopping needs.
Next: There's "something for everyone" at this growing discount store.
1. TJ Maxx
With its low prices on high-end brands, TJ Maxx has managed to dodge all potential apocalyptic doom. It's summer sales increased by 6%, despite many of its competitors admitting to significant loses. TJX Companies, owner of T.J. Maxx, Marshalls, and HomeGoods plans to open 1,300 new stores moving forward.
Next: Experts expect big things from this next store
2. Burlington Coat Factory
One department store has something to say before experts give Amazon all the glory. Morgan Stanley anoints Burlington, previously known as Burlington Coat Factory, one if its top stock picks this holiday season. The popular department store has posted same-store sales growth of 8.9% over the last two years. Plus, Burlington has managed to increase consumer traffic in 10 out of the last 12 months in-store — causing competitors to go green with envy.
Next: Shoppers truly want to "dress for less."
3. Ross
This off-price apparel merchandiser is beloved by savvy consumers. Seeking Alpha credits the department store's success to its ability to operate a no-frills store format that results in prices 20% to 60% below those of similar stores. Combine that with a strong rotating inventory selection and they've scored a customer base with a "buy now" mentality. Such growth could pose a serious threat to Amazon and other discount chains.
Next: A store that is expanding in secret
4. Von Maur
This popular Midwest department store chain continues its quiet expansion while competitors implode. Now there are 35 stores spread across 15 states, including New York, Oklahoma, and Missouri. A thriving e-commerce model also helps keep them in the black year-round.
President Jim von Maur attributes success to their standards, suggesting quality merchandise at a fair price and providing great service never goes out of style out of style.
Follow Lauren on Twitter @la_hamer.
Check out The Cheat Sheet on Facebook!