13 Stocks Making Big M&A News and Rumors This Week
Here's your Cheat Sheet to this week's top mergers and acquisition news:
EBay Inc. (NASDAQ:EBAY): Current price $55.58
EBay has purchased the online marketplace for men's shopping Bureau of Trade. Founder Michael Phillips Moskowitz will come to the eBay Marketplaces team, where his concentration will be on assisting eBay upgrade its personalization efforts. Financial terms of the acquisition were not divulged, but it was an all-cash transaction and an "acceptable" and positive outcome for Bureau of Trade's investors. The startup had raised $1.2 million in seed funding in a round led by Foundation Capital, with contributions from FF Angel, Founder Collective, Courtney Holt on behalf of the Techfellows Fund, together with other angel investors.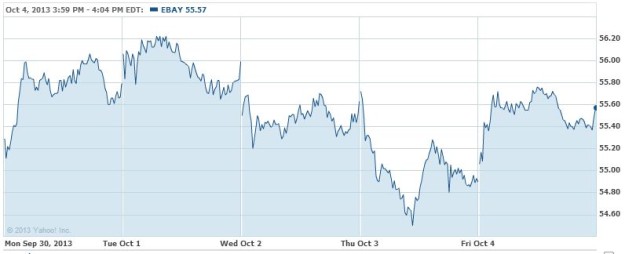 BP (NYSE:BP): Current price $41.96
BP wants to become the first oil major to have a long-term deal to purchase seaborne crude from Rosneft Oil Co., according to trade sources, after several trading houses secured large volumes in 2013 from the Kremlin energy favorite. The trading houses Glencore, Vitol, and Trafigura agreed to lend Rosneft $11.5 billion in return for oil supplies over five years. Big oil has mostly stayed on the sidelines, preferring to acquire Russian crude at spot tenders. Already, BP has received some volumes of Russian Urals crude through the deal, which is still being completed, said three trading sources to Reuters. Both BP and Rosneft would not comment.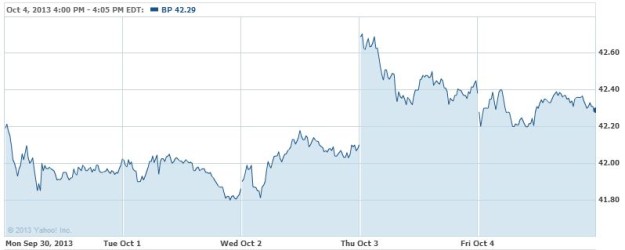 ArcelorMittal (NYSE:MT): Current price $14.18
On Sunday, ArcelorMittal announced that it will divest a majority interest in its Algerian operations to the Algerian state as part of a $763 million investment accord. The Algerian government-controlled entity Sider will own 51 percent of ArcelorMittal's Annaba and Tebessa units as part of the deal, with Arcelor owning the remainder, said a statement from Arcelor. Under the present ownership, Arcelor holds 70 percent and Sider 30 percent. The sale price of the stake was not reported.

TeleCommunication Systems, Inc. (NASDAQ: TSYS): Current price $2.45
The player in mobile communication tech–TeleCommunication Systems–a client of IPNav, a full-service patent monetization firm, on Monday said that TCS and Marathon Patent Group have entered into a patent alliance, through which Marathon has acquired certain patents from TCS' wireless data patent portfolio. TCS holds a substantial intellectual property portfolio from over 15 years of investing in mobile location, messaging, public safety, and related wireless communication innovations.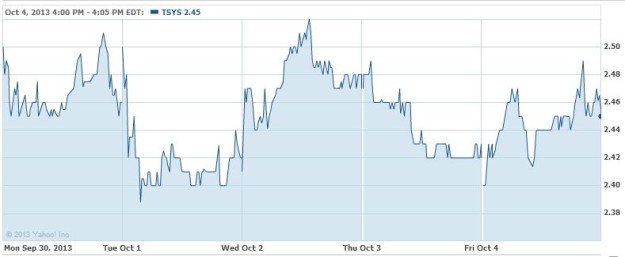 Don't Miss: Can Facebook Spread the Love for Dating Sites?
International Business Machines Corp. (NYSE: IBM): Current price $184.00
On Tuesday, IBM today announced that it will purchase privately-held The Now Factory, which provides analytics software that aids communications service providers in delivering improved customer experiences and driving new revenue opportunities. The Irish firm is headquartered in Dublin. The acquisition also complements the IBM MobileFirst Analytics portfolio, which is created to enhance the manner by which organizations analyze mobile device usage to provide exceptional customer experiences. Financials of the transaction were not divulged.
IBM has purchased Xtify Inc., which provides cloud-based mobile messaging tools assisting organizations improving mobile sales, drive in-store traffic, and engaging customers who have personalized offers. The acquisition will help extend IBM's mobile capabilities to digital marketers across all industries ranging from retail to citizen engagement in the public sector through cloud-based services. Financial terms of the transaction have not been disclosed.

Intel Corp. (NASDAQ:INTC): Current price $22.76
Intel confirmed Monday that it will hire around 800 full-time employees and 200 contract workers from the Israeli branch of Micron after the that company announced in 2012 that it would close operations at its Kiryat Gat facility. Through the terms, Intel will also take over the plant, which it built 15 years ago, prior to building its more up-to-date Fab 28 plant next door in 2006. The Micron fab was on track to close in 2015 unless a buyer could be found, according to company officials earlier in 2013. Intel still owns the plant, having leased it to Micron after Fab 28 was constructed. Under this week's accord, Intel will take full possession of the facility.
Republic Airways Holdings Inc. (NASDAQ:RJET): Current price $11.55
Republic said Tuesday that it will divest Frontier Airlines to an affiliate of Indigo Partners LLC through an all-cash transaction. Under the terms of the stock purchase arrangement, which has been approved by Republic's board, the buyer, which is an affiliate of Indigo Partners, will purchase all the outstanding shares of Frontier Airlines Holdings, Inc. in a transaction valued at roughly $145 million. Of this, $36 million will be paid in cash for the equity of Frontier Holdings, with the balance being indebtedness that will be retained by Frontier.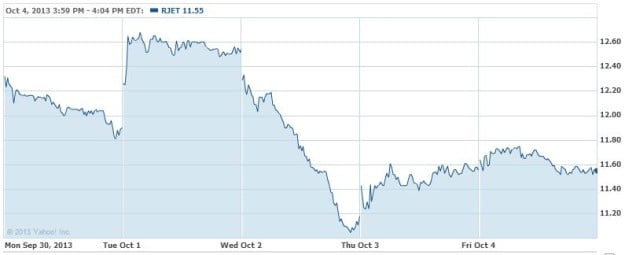 Ingram Micro Inc. (NYSE:IM): Current price $23.27
The biggest wholesale tech distributor today said that it has bought CloudBlue Technologies, Inc., which provides enterprise information tech asset disposition, onsite data destruction, and e-waste recycling services for large enterprise customers, retail customers, and original equipment manufacturers. Founded in 2008 in Georgia, CloudBlue supplied secure and sustainable reverse logistics solutions for over 1,000 customers.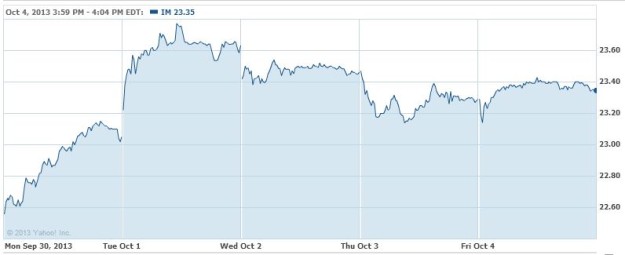 Don't Miss: No Gold iPhone? The Chinese Will Do With Gold Stickers.
Marathon Oil Corp. (NYSE:MRO): Current price $34.76
Libya's Oil Minister Abdelbari Arusi says that his country's National Oil Corp is interested in acquiring Marathon Oil Corp's interest in one of Libya's most important joint ventures. Marathon is mulling a possible sale of its stake in Waha Oil Company, which has a capacity of 350,000 barrels per day and produces Libya's primary light sweet crude grade, said sources to Reuters back in July. Commenting during a conference in London on Wednesday, Arusi said, "Regarding Marathon, yes, we're interested to buy the stake," as he confirmed Marathon was planning to divest its stake.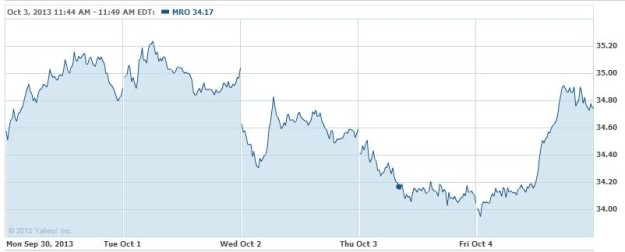 Accenture Plc. (NYSE:ACN): Current price $73.40
Accenture will purchase Procurian, an important provider of procurement business process solutions. The acquisition will further reinforce Accenture's capabilities in procurement business process outsourcing spanning a range of industries including consumer goods, high-tech, and financial services, and will contribute crucial analytics capabilities and technology assets. Accenture will pay $375 million in cash for Procurian, subject to certain adjustments at closing, including working capital, cash, debt, and other items.

Aviva Plc (NYSE:AV): Current price $13.36
Aviva has obtained $800 million more than it initially anticipated from the divestiture of its United States division, acquired from an economic upturn, which gained traction while regulatory scrutiny delayed the deal's completion. The disposal forms part of a company-wide revamp after a shareholder rebellion in 2012, which lead to the exit of its then-chief executive subsequent to years of mounting costs and disappointing share price performance. Late on Wednesday, Aviva reported that it had finalized the sale of its United States life and annuities business Aviva USA Corp to Athene Holding Ltd., now listing its proceeds at $2.6 billion versus the $1.8 billion price announced in December.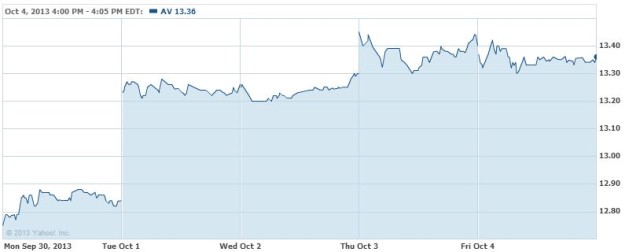 Investing Insights: Can Lululemon Break Out to New Highs This Year?
Solera Holdings, Inc. (NYSE:SLH): Current price $52.85
On Friday, Solera announced that it will acquire equity interests in a parent company of Service Repair Solutions, Inc. from an affiliate of the private-equity firm Welsh, Carson, Anderson & Stowe. The transaction is subject to the usual closing conditions, which include Hart-Scott-Rodino clearance, and it is anticipated to close in Solera's second quarter of fiscal year 2014. The buyer is a worldwide supplier of software and services to the automobile insurance claims processing and decision support industries.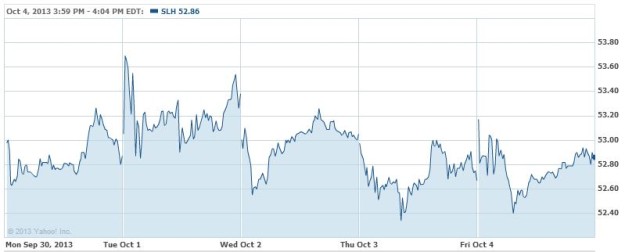 Emerson Electric Co. (NYSE:EMR): Current price $64.00
Emerson said Friday that it has purchased Enardo LLC, a firm engaged in safety and environmental control equipment the oil and gas, petrochemical, waste water, and refining, along with other industries. Enardo saw around $65 million in sales in 2012, and employs 140 persons at its headquarters and operations in Tulsa. The firm makes tank and terminal safety equipment, including hatches, vent, pressure and vacuum relief valves, and flame arrestors used in the oil and gas, petrochemical, chemical, and other industries. Financials of the transaction were not mentioned in the press release.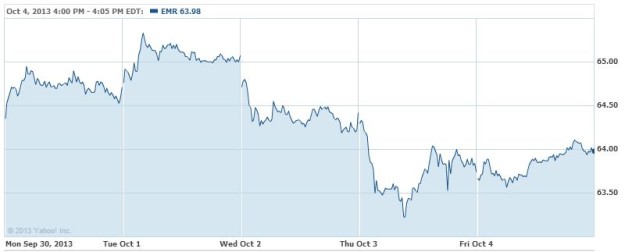 Investing Insights: Can United Technologies Continue Its Move to All Time Highs?