2 Dow 30 Energy Stock Stories Not to Miss This Week
Chevron Corporation (NYSE:CVX): Current price $114.96
The global oil demand projection for 2013 has been decreased by the International Energy Agency because of the ongoing fragility of the world economy in the face of recovery signals in China and the United States, says the Economic Times. According to the Agency, the marginal cut of 85,000 barrels a day was appropriate with the prospect for slower economic growth forecast by the IMF, which lowered its world growth estimate for this year from 3.6 to 3.5 percent. The Agency's new forecast for oil demand stands at 90.7 million barrels per day, with the Euro zone and Latin America accounting for the majority of the revisions.

Exxon Mobil Corporation (NYSE:XOM): Current price $88.28
The Russian oil giant Rosneft and ExxonMobil will expand cooperation under their 2011 Strategic Cooperation Agreement so as to include an additional roughly 600,000 square kilometers of exploration space in the Russian Arctic and potential participation by Rosneft in the Point Thomson project in Alaska. Additionally, they have agreed to do a joint study on a potential LNG project in the Russian Far East, with the agreements including plans to explore seven new blocks in the Chukchi, Laptev, and Kara Seas. A separate Heads of Agreement was signed, supplying Rosneft an option to buy a 25 percent interest in the Point Thomson Unit which covers development of a remote natural gas and condensate field on the  North Slope.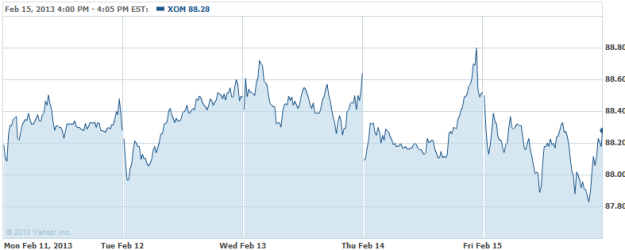 Investing Insights: Is Coca-Cola an Outperform?