2 Energy Stocks Powering the Dow This Week
Chevron Corporation (NYSE:CVX): Current Price $119.81
Chevron has the green light to restart output at the offshore Frade field in Brazil, which was the site of a November 2011 accident and oil spill, reported Brazil's National Petroleum Agency, according to Dow Jones Newswires. In a board meeting on Friday, ANP directors gave Chevron the go ahead to resume crude-oil production from four wells for a period of 12 months. Output from an additional two wells was also cleared, but only for two months, according to ANP, which said that the partial restart of oil production was conditioned upon undisclosed changes to Chevron's plan to decrease flaring.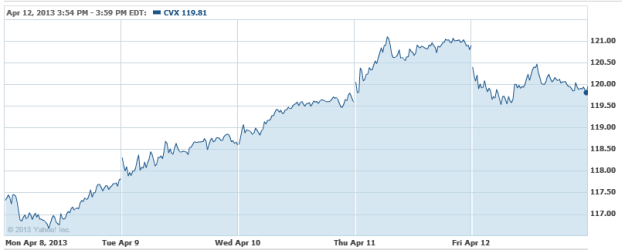 Don't Miss: Apple and Google Are Killing BlackBerry and Microsoft in App Sales.
Exxon Mobil Corporation (NYSE:XOM): Current price $88.94
Bloomberg reports that Exxon Mobil will appeal a $236 million New Hampshire verdict in a case concerning the use of the gasoline additive MTBE, after having seen a much larger award in a similar dispute tossed out by a court in Maryland. Following a nearly three-month trial, a jury in Concord took around three hours to find Exxon Mobil negligent for putting the additive in gasoline without warning the state of the risks and that the firm should pay for contaminating New Hampshire's groundwater. Exxon Mobil attorney David Lender said that his client has strong arguments to make on appeal.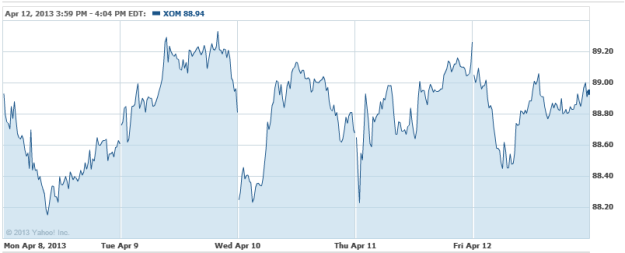 Investing Insights: Will Freeport-McMoRan Tank in 2013?