2 Top Stories That Affected Industrial Stocks Last Week
The Boeing Company (NYSE:BA): Current price $88.88
South Carolina is seeing more Boeing expansion, as the company invests another $1 billion and creates 2,000 new jobs over eight years, according to the Associated Press. Governor Nikki Haley commented at an aerospace conference along with Boeing and state officials, that  "Boeing is now a part of the fabric of South Carolina. So this is family and when family does well, we all get excited." The state is allowing $120 million in incentives for upfront expansion costs like utilities and site preparation at Boeing's North Charleston manufacturing complex which currently employs around 6,000. The first of the company's 787 Dreamliners built in South Carolina were finished about a year ago.
Boeing's heroic effort to get its troubled 787 Dreamliner back in the air is facing a daunting final hurdle, approval from the United States agency that has already gotten its fingers burned by approving the plane's safety. The Federal Aviation Administration is under scrutiny for clearing the 787 in 2007, only to have to reverse itself following lithium- ion batteries overheating on two jets. Transportation Secretary Ray LaHood, whose agency includes the FAA, announced that the planes were safe days before they were ordered parked. Beyond that, FAA officials will face the National Transportation Safety Board in April to explain their initial decision.
Qatar Airways Chief Executive Akbar Al Baker said on Thursday that he was confident that Boeing's 787 Dreamliner would be approved to fly and carry passengers again in the near-term, but he could not say when that might be. Al Baker remarked that the airline has sustained a serious impact and will seek compensation from Boeing for the Dreamliner being grounded globally after batteries overheated on two jets in January.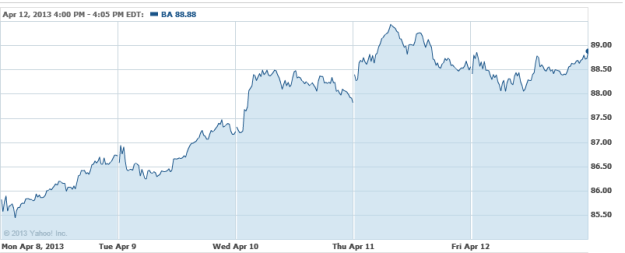 Alcoa (NYSE:AA): Current Price $8.21
Fitch Ratings has lowered its outlook on Alcoa's investment-grade rating, citing oversupply in the aluminum market impacting its earnings. The firm maintained Alcoa's issuer default rating and senior unsecured debt at triple-B-minus, which is a notch away from junk, and revised its outlook to negative, from stable. What is more, Fitch said that Alcoa's earnings and cash flow "should continue to improve with economic recovery but will be constrained in 2013 by low metals prices and weakness in Europe." The outlook change implies the possibility that earnings before interest, taxes, depreciation, and amortization will not meet expectations, and that Alcoa's high leverage will persist.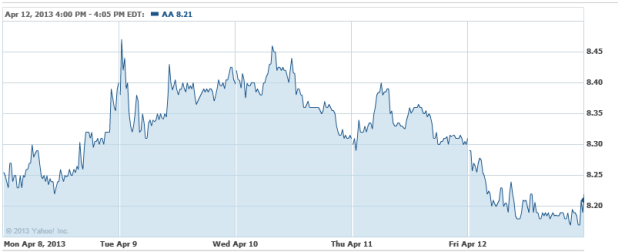 Don't Miss: Will Pepsi Explode Higher?