Stock Market 2014: Here Comes the Dumb Money
Before this year's gigantic rally, I wrote about the unexpected risk of a double rip. At the time, all the talk and concern were over the likelihood of a "double dip" recession due to the sequestration, tax increases, Obamacare, and an endless list of other politically charged worries.
Perma-bear Nouriel Roubini has already incorrectly forecast a double dip in 2009, 2010, 2011, and 2012, and bond maven Bill Gross at PIMCO has fallen flat on his face with his "2013 Fearless Forecasts": 1. Stocks and bonds return less than 5 percent; 2. Unemployment stays at 7.5 percent or greater; 3. Gold goes up.
Well, at least Bill was correct in one of his four predictions that bonds would suck wind, although achieving a 25 percent success rate would have earned him an "F" at Duke. The bears' worst nightmares have come to reality in 2013, with the S&P up +25 percent and the Nasdaq climbing +33 percent, but there still are 11 trading days left in the year, and a Hail Mary taper-driven collapse is in bears' dreams.
For bulls, the year has brought a double dosage of gross domestic product and job expansion, topped with a cherry of multiple expansion on corporate profit growth. As we head into 2014, at historically reasonable price-earnings valuations (P/E of ~16x – see chart above), the new risk is no longer about double-dip/rip but rather the arrival of the "dumb money."
You know, the trillions of fear capital (see chart below) parked in low-yielding, inflation-losing accounts such as savings accounts, CDs, and Treasuries that have missed out on the more than doubling and tripling of the S&P and Nasdaq, respectively (from the 2009 lows).
The fear money was emboldened in 2009-2012 because fixed income performed admirably under the umbrella of declining interest rates, albeit less robustly than stocks. The panic trade wasn't rewarded in 2013, and the dumb money trade may prove challenging for the bears in 2014, as well.
Despite the call for the "great rotation" out of bonds into stocks earlier this year, the reality is it never happened. I will however concede, a "great toe-dip" did occur, as investor panic turned to merely investor skepticism. If you consider the domestic fund flows data from ICI (see chart below), the modest +$28 billion inflow this year is a drop in the bucket vis-à-vis the hemorrhaging of $613 billion out of equities from 2007-2012.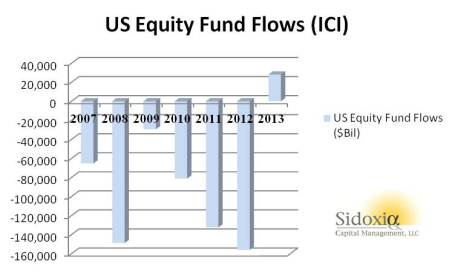 Will I be talking about the multiyear great rotation finally coming to an end in 2018? Perhaps, but despite an impressive stock rally over the previous five years in the face of a wall of worry, I wonder what a half trillion-dollar rotation out of bonds into stocks would mean for the major indexes? While a period of multiyear stock buying would likely be good for retirement portfolios, people always find it much easier to imagine potentially scary downside scenarios.
It's true that once the taper begins, the economy gains more steam, and interest rates begin rising to a more sustainable level, the pace of this stock market recovery is likely to lose steam. The multiple expansion we've enjoyed over the last few years will eventually peak, and future market returns will be more reliant on the lifeblood of stock-price appreciation … earnings growth (a metric near and dear to my heart).
The smart money has enjoyed another year of strong returns, but the party may not quite be over in 2014 (see Missing the Pre-Party). Taper is the talk of the day, but investors might pull out the hats and horns this New Year, especially if the dumb money comes to join the fun.
Wade Slome, CFA CFP, is president and founder of Sidoxia Capital Management and shares his investing insights at Investing Caffeine.
Don't Miss: Obama: 2014 Will Be a 'Breakthrough Year for America'