3 Auto Stocks Going Places: Ford's New Edge, Tesla's Slide Rolls On, Toyota's Camry Successes
Ford Motor Co. (NYSE:F): Ford unveiled its next concept for the Edge at the Los Angeles Auto Show. The vehicle features a 10-inch touch screen as its main control panel, and among the niftier features of the car is an updated program to aid in driving that can warn of potential accidents. In addition, the car's systems are capable of parking the vehicle without a driver present.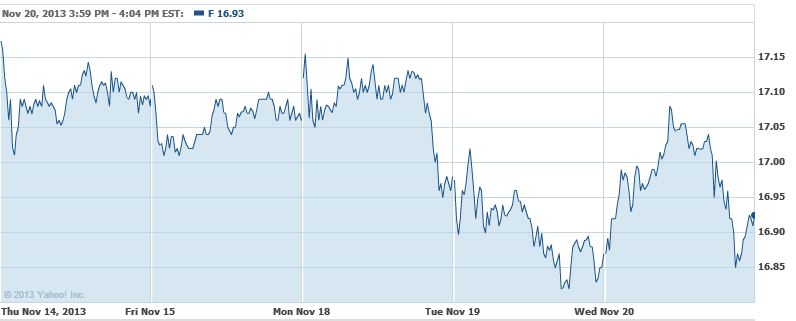 Tesla Motors (NASDAQ:TSLA): The National Highway Traffic Safety Administration announced that it will be launching a formal investigation into the fires that have been reported in the Tesla Model S. While the investigation is likely to find that there is nothing wrong with the vehicle — as the automaker has repeatedly insisted — the mere presence of the probe is likely to impact sales. Barclays has cut its price target on the company to $120 in response to the news.
Toyota Motor Corp. (NYSE:TM): Toyota plans to keep innovating with respect to its flagship Camry model. Though the Camry remains the best-selling midsize car in America so far this year, Toyota has stressed that there is always room for improvement and that the company will be introducing additional features and options as time progresses. Just because it's in the No. 1 spot doesn't mean that Toyota can afford to be complacent, company executives have said.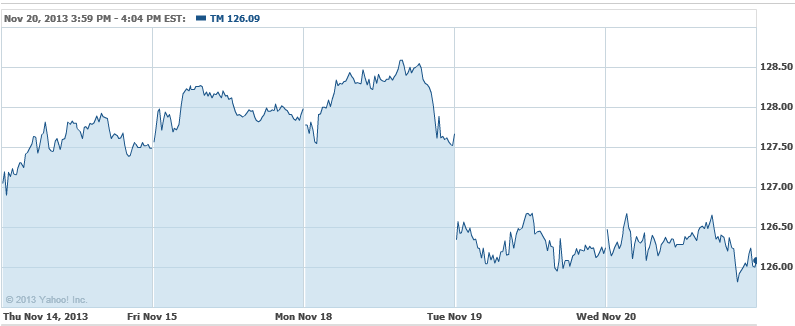 Don't Miss: 10 Top SUVs and Crossovers Under $25,000.