3 Auto Stocks Going Places: General Motors, Ford, and Toyota Show Strong October Sales
General Motors Co. (NYSE:GM): Unit sales at General Motors for October clocked in at 15.7 percent, to 226,402, trouncing estimates calling for a 7.9 percent gain. Retail sales grew 16 percent while fleet sales saw a 14 percent gain. Chevrolet surged 14.7 percent, GMC lifted 15.7 percent, Buick  leapt 31.2 percent, and Cadillac racked up 9.5 percent. The show's only getting started, too, as General Motors is prepping a new Colorado pickup, a new Chevy Suburban and Tahoe, and a new Escalade all due over the next couple of years, among others.

Ford Motor Co. (NYSE:F): Ford's October sales came in at 191,985, up 14 percent over October of last year but near the low range of analyst estimates. The Ford namesake saw a 13.2 percent increase as the Lincoln brand saw 38.4 percent growth over 2012. Cars grew 19 percent, utilities grew 9 percent, and trucks were up 14 percent. The Fiesta enjoyed its best October ever, as the F-Series punched through the 60,000 barrier again.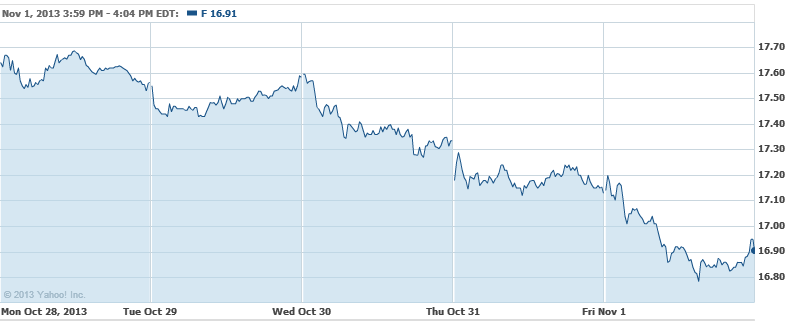 Toyota Motor Corp. (NYSE:TM): Toyota posted a sales increase of 4.8 percent this October compared with October 2012 when adjusted for the number of selling days in each month. Toyota executives were optimistic about the data, saying that it represented a strong month for consumer spending despite the government shutdown. Toyota's luxury brand Lexus saw year-over-year adjusted sales rise more than 10 percent, which is good news as the brand prepares for the typically strong holiday season.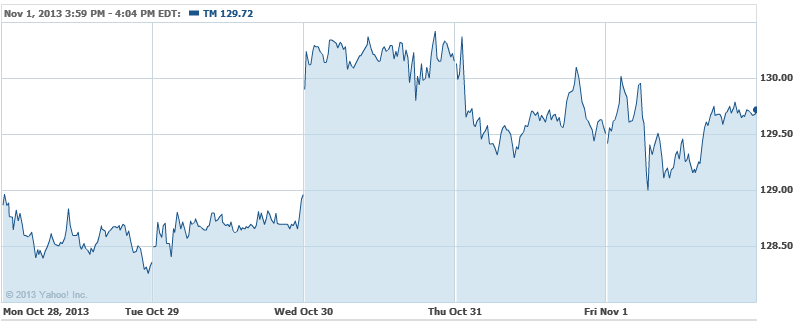 Don't Miss: Trouble In Paradise? Tesla Suffers Major Stock Decline.