3 Auto Stocks Going Places: GM's Akerson Brushes Off Declines, Ford Goes Hiring, and Tesla's CEO Is Tweeting Again
General Motors (NYSE:GM): GM shares are running hot following the company's quarterly results, in which the company beat its earnings estimates by $0.12 with $0.67 per share, while revenues of $36.9 billion — although down 2 percent for the year — beat by $300 million. Net income of $865 million fell 14 percent, "The year is off to a strong start as we increased our global share with strong new products that are attracting customers around the world," CEO Dan Akerson said, apparently unruffled by the declines and confident in the revamped lineup that the company will be bringing over the remainder of the year.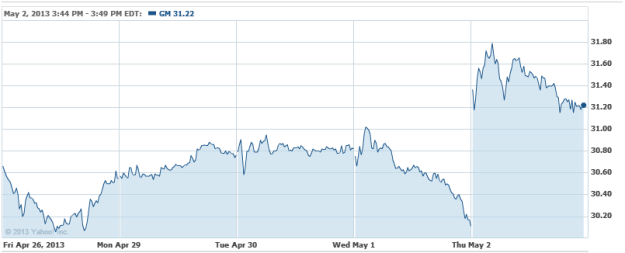 Ford Motor Co. (NYSE:F): In order to accomodate growing demand for its F-Series pickups, Ford is adding 2,000 jobs to its Kansas City production facility. Housing industry booms have driven a demand for trucks, which have been selling superbly well so far this year. The company is also using the new labor force to help with its Transit cargo van, which is due to enter production in the fourth quarter. The average age of trucks on the road is at a record high as well, signaling continuing demand as people replace their dated vehicles.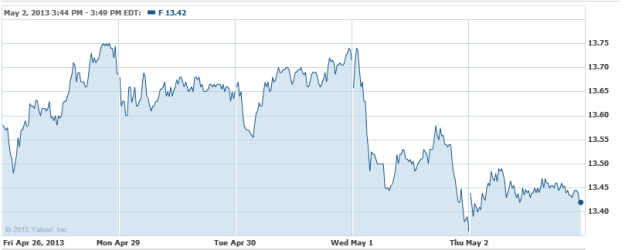 Tesla Motors (NASDAQ:TSLA): Elon Musk is at it again. While that could mean numerous things, in this case it is referring to his cryptic tweets, which Musk gleefully issues prior to a big announcement from his offspring, Tesla. "Time to up the ante (and fix some mistakes). Tesla announcement tomorrow." read the tweet. Notably, his most high-profile mistake recently was generating buzz that lifted Tesla's shares over the announcement of the new financing model, which turned out to be ideally fluffed up to sound more appealing.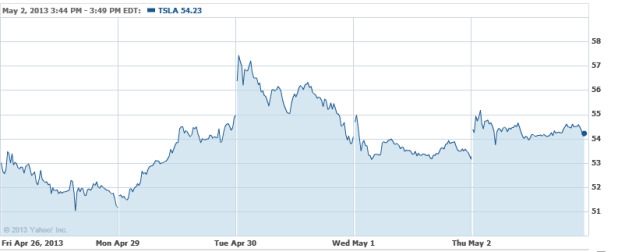 Don't Miss: Chevrolet Ad Blunder Pins Racist Tag on GM.