3 Auto Stocks Going Places: GM's Global Success, Toyota's AC Woes, Ford's Mulally Stays Loyal
General Motors Co. (NYSE:GM): General Motors's global sales have risen 4.6 percent, holding the company's lead over its biggest competitor in China, Germany's Volkswagen AG.  General Motors's nine-month worldwide sales grew to 7.25 million units; between VW and Toyota, it's a three-way race for global supremacy, and the gaps are narrowing — especially in China – Bloomberg reports. Third-quarter sales alone rose 5.5 percent, to almost 2.4 million, with the biggest increases in North America and GM's International Operations unit.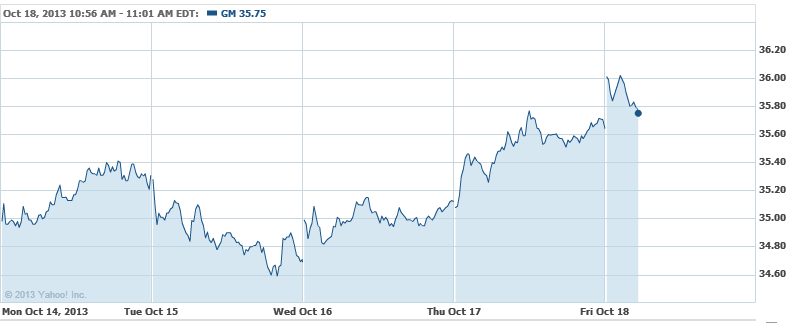 Toyota Motor Corp. (NYSE:TM): More on Toyota's big air conditioning recall: The 870,000-plus strong recall for 2012-2013 models of the Avalon, Camry, and Venza could be due to spiders, whose webs can create a blockage in a drainage tube coming from the air conditioning condenser. In turn, the block can cause water to drip onto the airbag control module, resulting a short circuit which could potentially cause the airbag to deploy unexpectedly.

Ford Motor Co. (NYSE:F): CEO Alan Mulally, who is widely regarded as navigating Ford through the fiscal crisis and turning the company's fortunes around, is not answering direct questions regarding his pursuit of jobs at Microsoft (NASDAQ:MSFT) or Boeing (NYSE:BA), instead insisting, "I love serving Ford." His contract with the automaker is scheduled to expire at the end of 2014. Mulally has held on to the CEO spot longer than anyone at Ford other than Henry Ford I and Henry Ford II.
Don't Miss: Tesla Takes the Green-Car Credit Sales Crown.