3 Auto Stocks Going Places: Honda's Fuel Cell Vehicle, Tesla Will Not Recall Model S, Toyota's Concept Car
Honda Motor Co. (NYSE:HMC): Honda will debut the FCEV Concept Car at the Los Angeles Auto Show next week. The FCEV is the latest iteration of Honda's fuel cell vehicles, utilizing technology the company spent millions developing. The current models, the FCX hatchback and the FCX Clarity, are on the market today but in limited numbers and only through a three-year lease; they are saddled with a hefty monthly payment of $600. The FCEV promises to be sportier, and the production model is scheduled to hit the road in the U.S. and Japan in 2015.

Tesla Motors (NASDAQ:TSLA): CEO Elon Musk said Tuesday that Tesla Motors will not be voluntarily recalling the Model S, which was involved in different three battery fire incidents. Tesla's shares have suffered since the car fires, closing down nearly 5 percent on Tuesday, and the stock has fallen more than 20 percent in the past month. Despite the recent controversy, the company remains one of the Nasdaq's top-performing companies for the year, up 300 percent.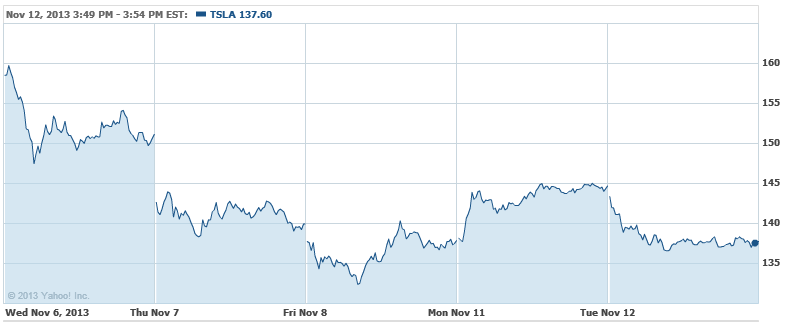 Toyota Motor Corp. (NYSE:TM): Toyota unveiled a new concept car, the FV2, in preparation for the upcoming 2013 Tokyo Motor Show on November 22. The car sports a highly futuristic design and is a single-seat, three-wheeled vehicle that appears to be a hybrid between a bike and an automobile. More interestingly, the FV2 is equipped with technology that allows it to read the driver's facial expressions and voice, which allows the car to adjust itself according to the operator's mood. Further, the car utilizes a new method of steering based on horseback riding, in which the driver leans side to side in order to move the car left or right and backwards or forwards in order to brake or accelerate.

Don't Miss: 10 Top Used Cars to Buy for Under $8,000.