3 Auto Stocks Going Places: Tesla Stays Down, Toyota's Fuel Cell Car, Ford Finds Fountain of Youth
Tesla Motors (NASDAQ:TSLA): Tesla shares are continuing their precipitous fall during Friday trading, as missed expectations (albeit lofty ones) from the third quarter accumulated with another fire incident to make for the steepest share price drop in the company's trading history to date. Seeking Alpha points out that most auto analysts believe that Tesla will remain above scrutiny over safety concerns with the sedan, although Kelley Blue Book analyst Karl Brauer notes that multiple headlines with the words "Tesla" and "fire" could have a short-term impact on the brand.
Toyota Motor Corp. (NYSE:TM): Toyota is expected to unveil its FCV hydrogen fuel-cell car at the Tokyo Motor Show later this month. While the car suffers from the lack of a distribution network for its hydrogen fuel, a version is nevertheless expected to find its way to select dealerships beginning in 2015. Also on tap for Toyota at the motor show are the FV2, which eschews the traditional steering wheel, and a convertible version of the FT-86.

Ford Motor Co. (NYSE:F): The Focus ST is attracting a new generation of buyers to the car, according to Ford. Sales data indicate that 32 percent of the car's buyers are younger than 35, compared to just 22 percent for other models of the Focus. In addition, sales of the car have been accompanied by high levels of trade-ins from other auto makers, meaning that the car is allowing Ford to take market share from other companies.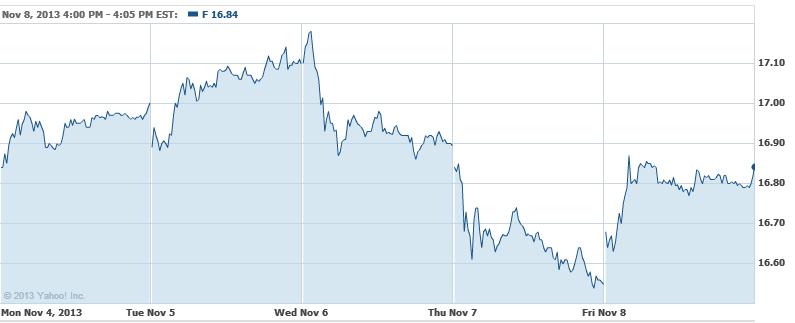 Don't Miss: Another Tesla Model S Fire? #ElonMuskProblems.