Tesla Motors Inc. (NASDAQ:TSLA): A Consumer Reports owners survey has put Tesla's Model S sedan at the top of the list, boasting a 99 out of 100 satisfaction rating, which the publication notes is the highest score in years. Consumer Reports added that the leading cars are "either fun to drive, deliver great fuel economy, are fashionably green, or envelop owners in a high-tech, luxurious driving environment"; the Model S, "provides a combination of all those attributes."
Honda Motor Co. (NYSE:HMC): Honda's 2014 Accord lineup went home with the title of Green Car of the Year at Thursday morning's Los Angeles Auto Show. Honda's Accord is available in hybrid, gas, and plug-in versions; the Accord was among five models nominated for the award (the others were the Audi A6 TDI, BMW 328d, Mazda 3, and Toyota Corolla). This is the second time in three years that Honda has taken the top spot. In 2012, it was the Civic Natural Gas vehicle that won.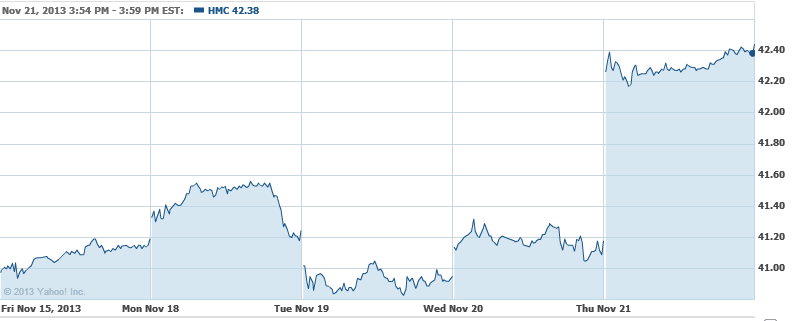 General Motors Co. (NYSE:GM): The Treasury department unloaded 70.2 million General Motors shares on Thursday, shares it bought as a part of the automaker's bailout, and the government hopes to sell the remaining shares by the end of the year. The Obama administration expects to report a $10 billion loss as a result of the bailout, which officials say was crucial to the economic recovery effort. At the height of the bailout, taxpayers owned approximately 60 percent of General Motors.

Don't Miss: 8 Noteworthy Cars & Trucks From the Los Angeles Auto Show.