3 Auto Stocks Going Places: Tesla Trounces Expectations, General Motors Expands Footprint In China, and Ford's Meeting Highlights
Tesla Motors (NASDAQ:TSLA): Shares of Tesla are ripping today, after a surge last night during After Hours trading when the company released a stunning report card that blew analysts estimates (as well as the company's own) out of the water. The company delivered 4,900 vehicles, and achieved its first quarter of profitability, even with a loan payment to the Department of Energy. Not even a downgrade from Goldman Sachs can smother the fire, as Consumer Reports offers the Model S a 99 out of 100 score, the highest seen since 2007.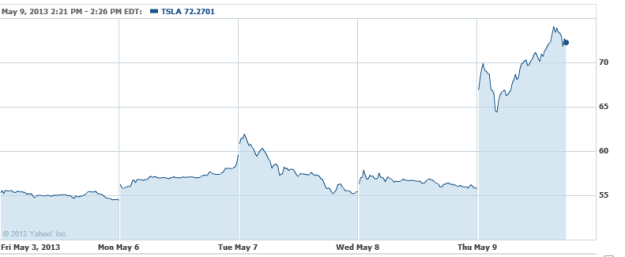 General Motors (NYSE:GM): China is widely regarded as not only the largest auto market in the world, but also the biggest market for luxury vehicles. To capitalize on the growing potential, GM is investing $1.3 billion in a Cadillac plant in the country. Construction is set to begin in June, and be able to turn out 150,000 cars per year. Having sold just over 30,000 cars in China last year (next to Audi's 400,000 and BMW's 330,000), there is plenty of room for Cadillac to grow into the space.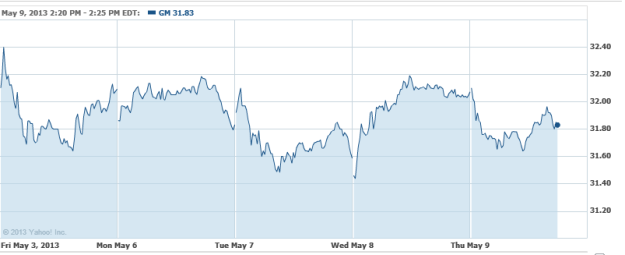 Ford Motor Co. (NYSE:F): Some notes from Ford's annual shareholder meeting: CEO Alan Mulally was assured shareholders that he will lead the company through at least 2014, while executives maintained that investments in Asia will soon begin to pay off — a relief to shareholders, given the current and past performance of the European market, which management says will once again become profitable by mid-year.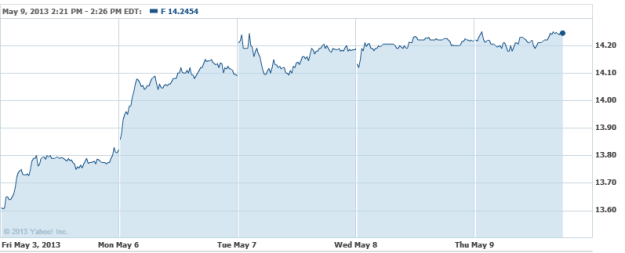 Don't Miss: Can the Dodge Challenger Wrestle America's Muscle Car Kings?