3 Auto Stocks Going Places: Tesla's Shares Recovering, GM Closes German Plant, Ford Mustang's Debut
Tesla Motors (NASDAQ:TSLA): Shares are recovering from Monday's slide, as CEO Elon Musk announces that the National Highway Traffic Administration will be launching a probe into the three fires that resulted from accidents over the last several weeks. Musk maintains that drivers are 4.5 times more likely to experience a fire in a gasoline car than in Tesla's Model S, and says that the risk of being struck by lightning is more of a concern.

General Motors Co. (NYSE:GM): European auto sales are hobbling along at a 20 year low, driving many automakers to close plants in an effort to cut costs. On Monday, the Opel unit of General Motors became one of several automakers to announce the closure of a European factory in the past few years. The company announced that it negotiated a preliminary agreement with workers at the factory in Bochum, Germany that would allow the plant to cease production at the end of 2014. The factory previously manufactured the Zafira minivan; the product's production is being moved to Opel's headquarters in Rüsselsheim in the wake of the closure.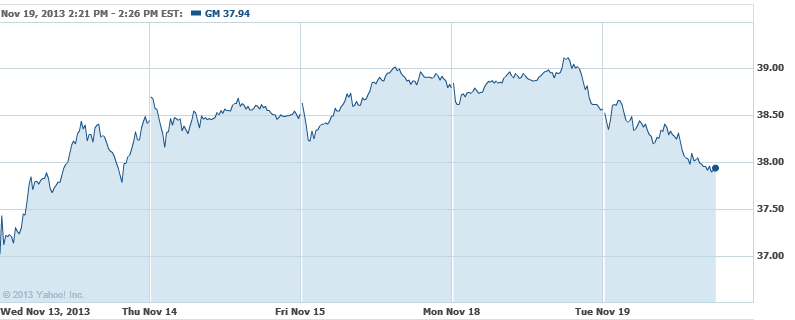 Ford Motor Co. (NYSE:F): Ford announced Tuesday that it's 2015 Ford Mustang would make it's world debut on December 5. The company made the announcement in a rather unconventional way: the date is revealed at the end of a video, which appeared on the Ford Mustang YouTube channel Tuesday morning in response to a social media effort called #MustangInspires, which asked fans to share pictures of the car as well as "photographic stories of inspiration," on social media platforms like Twitter, Instagram and Facebook.

Don't Miss: 12 Top Cars and SUVs for Family Trips This Holiday Season.