3 Auto Stocks Seeing Action: GM's Offroad Vehicles, Toyota's DirecTV Deal, Tesla's Potential Problems
General Motors Co. (NYSE:GM): GM says that it will consider producing an off-road version of its Chevrolet Tahoe and Suburban models, and their corresponding GMC counterparts, as the automaker believes that the off-road market will maintain a robust level of demand. GM does not yet have a purpose-built vehicle for off-roading like its competition does. Separately, GM has announced that it will repurchase 120 million shares of its preferred stock from the UAW Retiree Medical Benefits Trust for around $27 per share.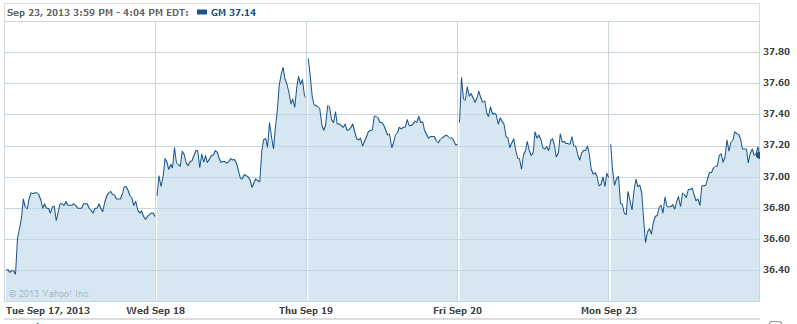 Toyota Motor Corp. (NYSE:TM): Toyota is taking a creative approach to finding a promising group of tech-savvy consumers to market to with a new and unlikely partnership with DirecTV (NASDAQ:DTV). Toyota will analyze DirecTV's subscriber data, to in turn deliver EV ads to a narrow and more pointed block of consumers.

Tesla Motors (NASDAQ:TSLA): Bank of America Merrill Lynch says that Tesla's institutional ownership has fallen to about 66 percent today from 84 percent back in January. The analyst says that retail investors have had an increasing hand in driving shares higher and will be at risk of a correction. The firm says that the Gen-3 vehicle would have to be one of the best-selling vehicles in the world to drive 2020 volumes implied by the current share price. The analyst continues to see substantial downside risk and reiterates its Underperform rating and $45 price target.
Don't Miss: Is GM Taking Risks by Pitting Cadillac Against Tesla?