3 Buzzing Social Media Stocks: Facebook and Yelp Give the Year to Date Reports, Zynga Finds Solace in Gambling
Facebook (NASDAQ:FB): The largest social media company in the world has posted earnings of $0.12 per share, beating estimates by $0.01. Revenue of $1.46 billion beat estimates by $20 million, and also represents a leap of 38 percent year-over-year. Monthly active users grew 5 percent since the last quarter, and up 23 percent since the same quarter last year. Daily users and mobile monthly active users also experienced healthy growth. Mobile ads represented 30 percent of ad revenue, up 7 percentage points since last year, while payments revenue (games and so on) fell 17 percent.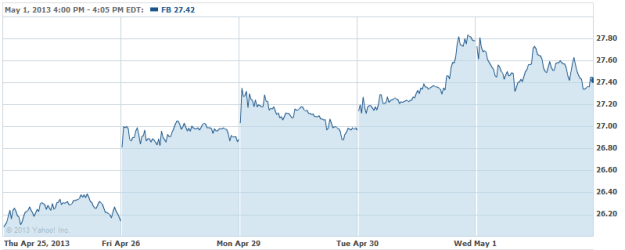 Yelp (NYSE:YELP): Earnings scored a near miss by $0.02 per share, falling at -$0.08 for the quarter. Revenue was a beat though, with $46.1 million exceeding expectations by $1.5 million. Expected second quarter revenue of $52.5 million-$53.5 million falls ahead of consensus estimates, at $50.6 million. Total 2013 revenue projections of $216 million-$218 million fall well above consensus expectations of $211.8 million, lending hopes that the company has an ace up its sleeve.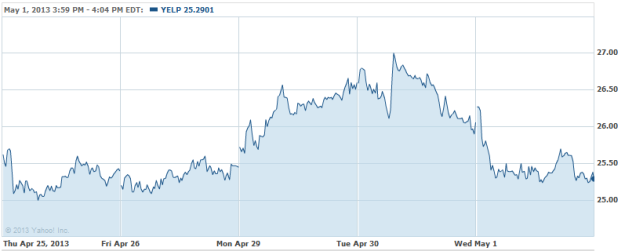 Zynga (NASDAQ:ZNGA): The switch from social game platform to real-money gambling might have been a lifeline for Zynga, according to H2 Gambling Capital which believes that U.S. based real-money gambling online could net $7.4 billion by 2017 in light of several states passing legislation in favor of the activity. Las Vegas-based casino operator Ultimate Gaming is planning to launch the first fully legal poker website in the United States, which would offer a boon to Zynga, which already has a live gambling outfit set up in the U.K.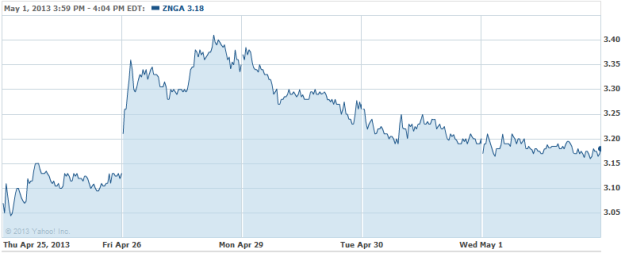 Investing Insights: Should Investors Stay Away from Zynga?