3 Buzzing Social Media Stocks: Facebook Beats Estimates, Twitter's Flight Date, Yelpers Sue Yelp
Facebook Inc. (NASDAQ:FB): Earnings per share of 25 cents trounced estimates by 6 cents, as revenue of $2.02 billion also beat, by $110 million. Mobile ad sales grew 34 percent over the second quarter, to $880 million, making up 49 percent of all ad sales. Total ad sales saw gains of 13 percent quarter over quarter and 66 percent year on year, to $1.8 billion. Ad sales accounted for 89 percent of total revenue. Facebook reported 1.19 billion monthly active users at the end of the third quarter, a 3 percent bump over the second quarter, and 18 percent over the same period last year.
Twitter Inc. (NYSE:TWTR): New York STock Exchange listing head Scott Cutler said Thursday that Twitter would begin officially trading on November 7, confirming earlier speculations. The underwriters involved include Goldman Sachs, Morgan Stanley, and JPMorgan; Twitter is hoping to move 70 million shares at a price range of $17-$20, although many believe that the range will likely be raised given the strong demand.
Yelp Inc. (NYSE:YELP): A group of Yelpers — people who write reviews on the website — have launched a class-action lawsuit against the company, claiming that they are uncompensated employees. The Yelpers point to a reward system as well as a scheme of benefits and punishments to liken themselves as helpless to the company's whims, all the while not receiving any pecuniary remuneration. Yelp executives have dismissed similar claims in the past, defending the legitimacy of their rating systems.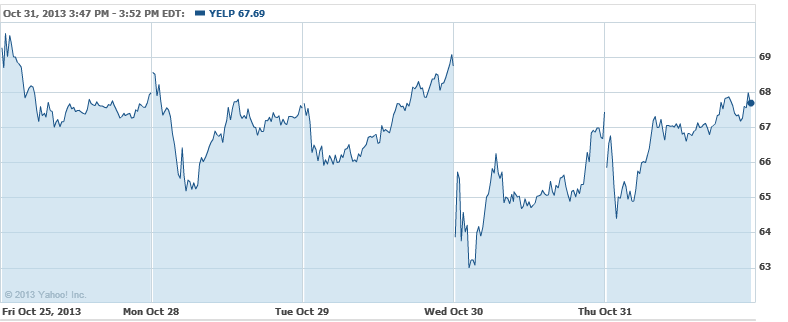 Don't Miss: Facebook: Curing Boredom for Users and Investors?