3 Buzzing Social Media Stocks: Facebook Completes Graph Search, Groupon's Strong Quarter, and Zynga Turns Down Cash Bid for OMGPOP
Facebook (NASDAQ:FB): Facebook's U.S. English graph search rollout is complete one month after Facebook first began testing Graph Search for the English-speaking public. Facebook is now turning its attention to other subjects like Trending Topics, à la Twitter. Now in its experimentation phases, Trending Topics is a Timeline card that shows the hottest subjects on the social network.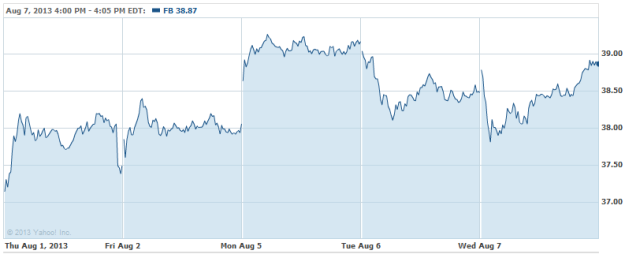 Groupon (NASDAQ:GRPN): Shares of Groupon are on an after-hours tear as the company beat its revenue projection by $2.5 million to hit $608.7 million and reported in line earnings per share of 2 cents. Gross billings reached $1.41 billion; the company announced a $300 million buyback. Third-quarter revenue is pegged at $585 million to $635 million and EPS of -1 cent to 1 cent against the consensus of $621.6 million and 5 cents, respectively. The 2013 operating income guidance was maintained.

Zynga (NASDAQ:ZNGA): Recently, it was announced that Zynga was folding OMGPOP. And even more recently, it was discovered that the company did so, despite a cash offer for the firm. Founder Charles Forman and a group of OMGPOP's former executives — including chief technology officers Jason Pearlman and EJ Mablekos – were hoping Zynga might give back the domain rather than shut it down altogether. However, the requests were reportedly "ignored" by the gaming firm, Business Insider reports, and Zynga announced that the site would shut down.