3 Buzzing Social Media Stocks: Facebook Gaming Stays Strong, LinkedIn Drops Job Notifier, and Yelp's Extortion Problem
Facebook (NASDAQ:FB): Six months after the dissolution of the agreement between Facebook and Zynga (NASDAQ:ZNGA), observers expected Facebook's gaming scene to dissolve. In fact, the opposite happened — Facebook's gaming arm is now stronger than it was previously, while Zynga has done little more than struggle since the two split. Facebook had its most successful three-month period as a games platform between January and March, generating roughly $213 million in revenue — 15 percent more than it made in the same period last year.

LinkedIn (NYSE:LNKD): LinkedIn's nifty little Job Notifier tool, which alerts a user when a connection changes their place of primary employment, will be shutting down due to LinkedIn's new API restrictions. Roger Lee, the creator of the notifier, says the changes impact the ability of "set it and forget it" services like his to function because third-party apps can only access user data for 60 days unless the user re-authenticates with the application, TechCrunch reports.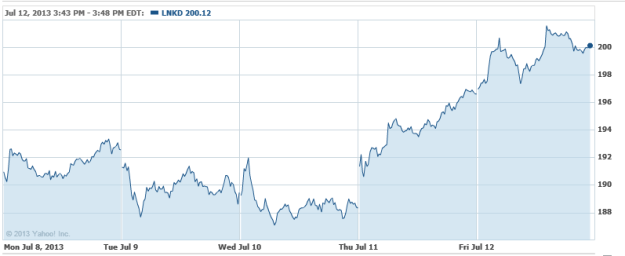 Yelp (NYSE:YELP): With competition always over its head, Yelp has another issue on its hands: allegations of extortion. A group of small business owners are appealing a decision to a lawsuit that said the crowd-sourced review giant is not liable for user reviews that negatively impact businesses. Yelp has been accused of wielding its influence to extort advertising revenue from small businesses, along with offers to hide negative reviews and highlight positive ones in exchange for advertising purchases.