3 Buzzing Social Media Stocks: Facebook Mobile Remains Strong, Yelp Rides Adjusted Guidance, and LinkedIn's Mixed Quarter
Facebook (NASDAQ:FB): Investors have decided that Facebook's mobile presence is strong enough of overcome weak PC demand, and helped to lift its shares over 3.5 percent. Ad impressions, ad prices, and revenue growth all experienced favorable gains, as did gaming activity, which set a record for usage — good news for game publisher Zynga (NASDAQ:ZNGA), which has seen rapid decline in its Facebook-based gaming and has branched out to offset. Check out a recap of Facebook's earnings.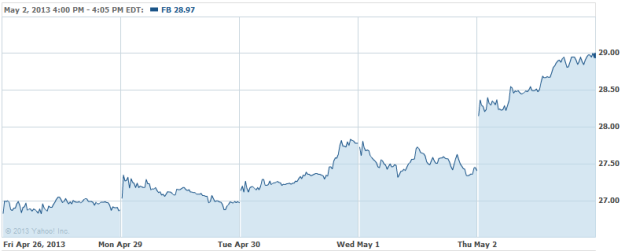 Yelp (NYSE:YELP): Shares are roaring over 20 percent in markets today, following last night's release of the quarterly figures which saw revenue beat estimates but earnings fall shy. Revenue adjustments to $216 million-$218 million, well above consensus of $211.8 million is the likely catalyst for such dramatic share movement.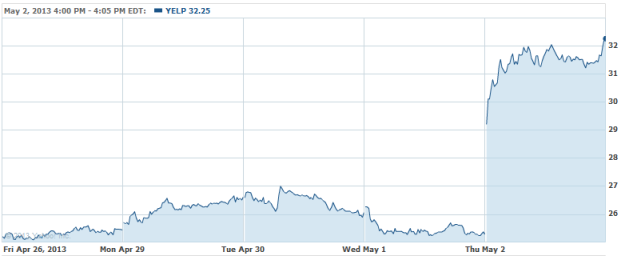 LinkedIn (NYSE:LNKD): LinkedIn has reported earnings of $0.45 per share, $0.14 above estimates, and a 72 percent increase in revenue, at $324.7 million, beating by $7.6 million. While these figures are all well and good, the company's outlook took investors by surprise. Expectations for second quarter revenue of $342 million-$347 million fell below the $359.2 million consensus,  2013 revenue projections of of $1.43 billion-$1.46 billion fell under the $1.49 billion consensus. Stock fell over 8 percent in after hours trading.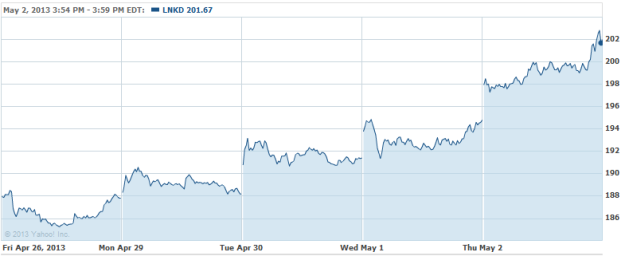 Don't Miss: Facebook: Profits Arrive From New Mobile Products.