3 Buzzing Social Media Stocks: Facebook News Is Studied, Zynga Beats Estimates, Groupon's Mobile Successes
Facebook Inc. (NASDAQ:FB): According to the results of a study by the Pew Research Center, most adults who consume news via Facebook do so incidentally; that is, they are not actively looking for news stories when browsing the site. In turn, this may increase the value of the site to some users because they are exposed to news that they would otherwise not be receiving. The study also found that Facebook news consumers reported preferring news stories that share their own point of view at a greater rate than the U.S. population as a whole.

Zynga Inc. (NASDAQ:ZNGA): Zynga reported third-quarter earnings per share of -2 cents, which beat expectations by 2 cents, and bookings of just more than $152 million, which beat estimates by over $8 million. The earnings report also detailed that Zynga lost $68,000 in the quarter. In other news, the company has named Clive Downie as its new COO; Downie was previously in charge of the company's American and European divisions and spent 15 years working for Electronic Arts.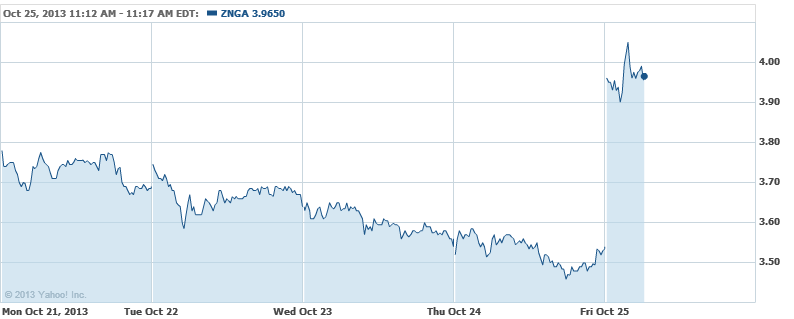 Groupon Inc. (NASDAQ:GRPN): Eric Lefkofsky, Groupon's CEO, was optimistic about his company's growth in the mobile sector in an interview with CNBC. He said that Groupon's product is "geocentrically intelligent" and inherently "designed for mobile," claiming that it uses the "power of a deal to explore a city." Groupon added more than 7 million mobile users in each of the first two quarters of this year.

Don't Miss: Can Twitter Overcome Its Quitter Problem?