3 Buzzing Social Media Stocks: Facebook Stock Soars, Pandora Surges on Apple's Slump, Groupon's Stock Rush
Facebook Inc. (NASDAQ:FB): Facebook shares are flirting with new post-IPO highs, as the shares are now up 69 percent since the last quarterly report. CEO Mark Zuckerberg is set to sit down for a a 30-minute "Fireside Chat" at TechCrunch's annual Disrupt conference; investors were pleased with his performance at the event last year. Separately, Chief Operating Officer Sheryl Sandberg is visiting Chinese Internet regulators and fueling speculation that Facebook is making a fresh effort to enter that market, where its services remain blocked.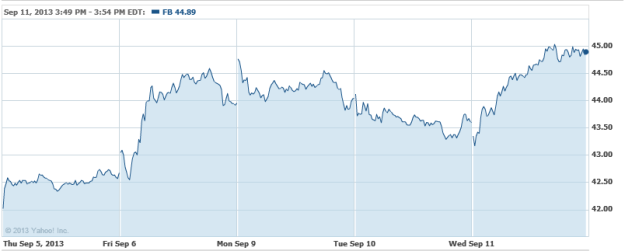 Pandora Media (NYSE:P): As Apple struggles after its iPhone introduction on Tuesday, its share weakness comes with added strength for Pandora, which is up 5.2 percent Wednesday as Apple gave no indication that iTunes Radio would be shared across platforms. Though Pandora took a share dive Tuesday during Apple's announcement, it's made most of its lost ground back.

Groupon (NASDAQ:GRPN): Groupon shares hit a new 52-week high Wednesday, reaching $11.50 per share before pulling back ever so slightly. That's the best price for the shares since May 2012, as a lack of drama and signs of improvement have helped the shares recover. "We hosted meetings with Groupon management on Monday, and the tone was largely upbeat," Deutsche Bank's Ross Sandler said. "We came away feeling better about: 1) the company's ability to deliver on financial targets, 2) Groupon's momentum in mobile and its transition to 'pull,' and 3) the continued progress in executing the 'One Playbook' in Europe and the rest of the world, which should allow for re-acceleration in growth and margin improvement."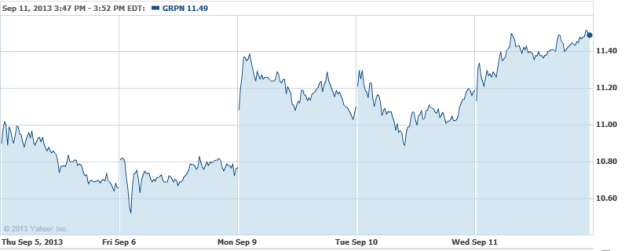 Don't Miss: Apple: iPhone 5S Set a New Precedent with This Technology.