3 Buzzing Social Media Stocks: Facebook's FTC Isses, LinkedIn's Security Scrutinized, Pandora Holds Radio Lead
Facebook Inc. (NASDAQ:FB): Facebook users have long expressed frustration over the company's lackluster customer service, with Facebook's users reporting more than 1,000 complaints to the Federal Trade Commission annually. Now, after a recent change to the company's privacy policy that has undergone sharp criticism from privacy groups and teen advocates alike, all those angry users seem to have attracted the FTC's attention once again. The changes to the privacy policy allow Facebook to insert users' names and photos into ads without explicit consent.

LinkedIn Corp. (NYSE:LNKD): LinkedIn is facing concerns from security experts regarding its service called LinkedIn Intro, a program that attaches information from the sender's LinkedIn profile when receiving an e-mail. The company responded to the criticism by saying it had explored "every possible avenue of attack," and that security testers have performed a "line-by-line code review" of the service. The company promises Intro is held to the "highest possible standard" and that the data are heavily encrypted, but skeptics point to LinkedIn's serious and widely publicized security breach in 2012 and question the site's trustworthiness.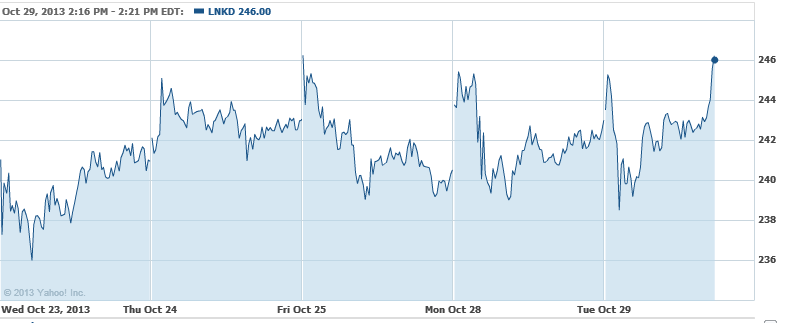 Pandora Media Inc. (NYSE:P): Canaccord's survey indicates 92 percent of Apple's (NASDAQ:AAPL) iTunes Radio listeners still use Pandora, indicating Pandora's October metrics are unlikely to be impacted by iTunes Radio; the firm believes this could be a positive catalyst for Pandora shares, and the analyst reiterates its Buy rating and $30 price target for the stock.

Don't Miss: 7 Movie Studios That Profited the Most This Year.