3 Buzzing Social Media Stocks: Facebook's New Reader, Another One Bites the Dust at Zynga, and Pink Floyd Takes on Pandora
Facebook (NASDAQ:FB): Facebook is looking to slide into the niche left open by the departure of Google (NASDAQ:GOOG) Reader, as the Wall Street Journal reports that the company is in fact developing a reader service on its own. The program is also a press by Facebook to emphasize its mobile platform, and open it up to more advertising dollars.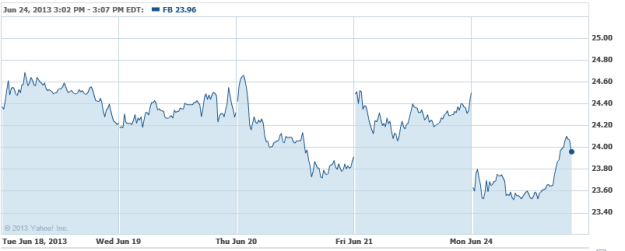 Zynga (NASDAQ:ZNGA): Yet another high-profile executive is leaving the struggling game maker: Andy Tian, head of Zynga's Chinese studio, will be bidding farewell at the end of the month. Shares are down over 6 percent, fueled by Tian's departure and falling in with the general sell-off of risky assets that has swept the market.

Pandora Media (NYSE:P): Pandora has found itself at the wrong end of the stick in a fight with musicians and artists, over its questionable maneuvers to secure lower royalty rates. The Street asserts that if Pandora doesn't remedy the issue soon, it could be a fatal blow to the streaming service — brought to attention by members of Pink Floyd, who took to a USA Today op-ed to criticize the company over its practices.