3 Buzzing Social Media Stocks: Hacker Exposes a Facebook Glitch, LinkedIn Shoots for a Younger Crowd, and Groupon's Yelp Problem
Facebook (NASDAQ:FB): Closing prize $37.81
Palestinian resident Khalil Shreateh was frustrated when Facebook's support team ignored his repeated attempts to point out a glitch in Facebook's system. So, the hacker used that glitch to hack his way into Mark Zuckerberg's own account, where he apologized for violating his privacy, but needed to do so to prove a point. Of course, the action drew an immediate response from Facebook's team, who insisted that the bug was patched up on Thursday. However, since Shreateh had violated the terms of service, by posting to Zuckerberg and Goodin's accounts, and will not be rewarded for his find.

LinkedIn (NYSE:LNKD):Closing prize $230.50
LinkedIn has launched University Pages in efforts to draw in a younger crowd of users, a program that allows current and future college students to research, receive updates from, and form connections at supporting colleges. Two hundred universities are already on board, including NYU, Villanova, and the Universities of Illinois and Michigan; the site is also dropping its minimum U.S. registration age to 14 from 18.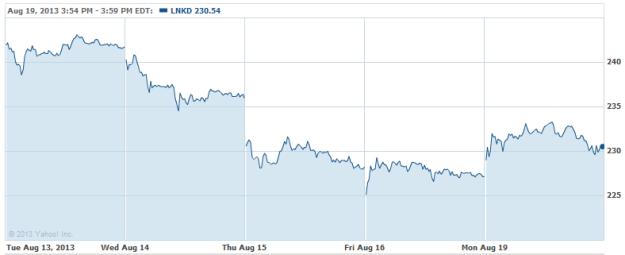 Groupon (NASDAQ:GRPN):Closing prize $9.50
Groupon has terminated the employee who, after being hung up on by a merchant, threatened to have his friends write poor Yelp reviews of his establishment. Groupon has since apologized to the restaurant, which has made the rounds talking to Groupon, AllThingsD (which reported the story), and Yelp.