3 Buzzing Social Media Stocks: LinkedIn's New Feature, Zynga's Mobile Strategy, Twitter Q-and-A Is Cancelled
LinkedIn Corp. (NYSE:LNKD): LinkedIn has announced that it will be partnering with several of the biggest names in independent online education to make it easier for users to incorporate achievements into their profiles. Among the companies being included are Skillsoft and Coursera. When a user completes a class on one of the websites, a feature will automatically ask if they want the result to be posted to their LinkedIn profile, making the tag difficult to fake. LinkedIn said that this is only the first step in making it easier for people to update and authenticate profiles on the site.

Zynga Inc. (NASDAQ:ZNGA): The new CEO of Zynga, Don Mattrick, appears to be following a different strategy for the company than his predecessors. Because of the reputation of social games as fads rather than longer-term moneymakers, Mattrick seems to be pursuing the mobile gaming market more aggressively than Zynga's failed real-money casino gaming potential, which was abandoned earlier this year. The mobile gaming market is expected to post significant growth over the course of the next several years.

Twitter Inc. (NYSE:TWTR): A question-and-answer session with James Lee, a Twitter executive, had to be cancelled after most of the submitted questions proved to be either offensive, juvenile, inappropriate, or all of the above. Examples of the questions submitted included queries about Lee's personal life, attacks against the company's corporate image, and sarcastic remarks about traders who lost money in the Twitter IPO.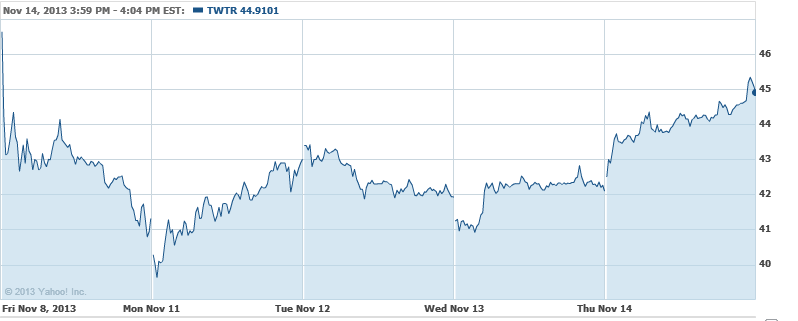 Don't Miss: Snapchat to Facebook: Not Interested.