3 Buzzing Social Media Stocks: Pandora Holds Its Own, Facebook Surges On Waze Loss, and Groupon's Big Aspirations
Pandora Media (NYSE:P): While Apple's (NASDAQ:AAPL) WWDC conference gets underway, JPMorgan still prefers Pandora over Apple's iRadio offering (which the firm believes will be formally announced at the conference on Monday), as it believes that Pandora's service has several advantages, including a large existing user base and broad device distribution. The firm has an Overweight rating on shares of Pandora.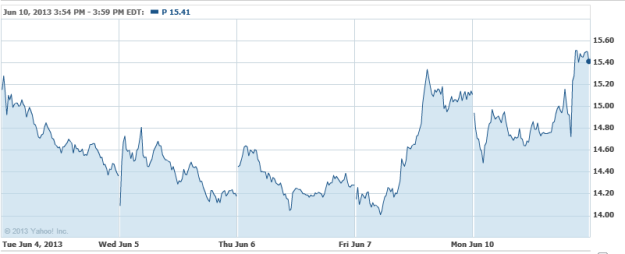 Facebook (NASDAQ:FB): Even Google's (NASDAQ:GOOG) purchase of Waze couldn't take the brakes off Facebook's share rally, up 4.5 percent after JPMorgan maintains its Overweight rating on shares of the company. Despite the slide based on concerns around user engagement and monetization into the back half of the year, the firm believes that competing services are having only a modest impact on time spent on Facebook, and it keeps its $35 price target.
Groupon (NASDAQ:GRPN): In addition to remaining king of the daily deal, Groupon has bigger aspirations: it wants to become a ruling power in mobile commerce, as well. Mobile commerce revenue has doubled since 2011, and isn't expected to slow down either as tablets and smartphones become continuously ingrained in the commerce culture. "We think we have a great opportunity to be one of those places where people start shopping when they pull out their phone," said Rich Williams, Groupon's senior vice president of marketing. Groupon said nearly half the sales in its core North American business are done on mobile devices.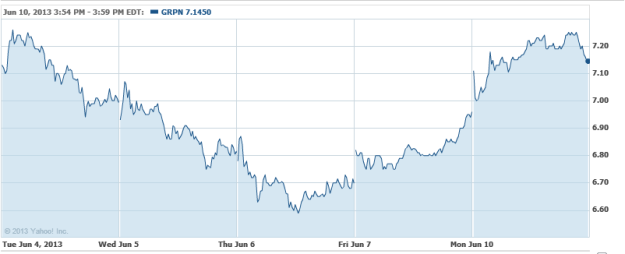 Don't Miss: GameStop Makes Wild Run As Skepticism Builds.