3 Buzzing Social Media Stocks: Samsung Rejects Facebook Phone, LinkedIn's iOS 7 Status, and Yelp Finds New Challenge In Google
Facebook (NASDAQ:FB): Reportedly, Facebook CEO Mark Zuckerberg asked Samsung (SSNLF.PK) for a Facebook phone while visiting Korea, although it seems Samsung isn't as enthusiastic about the idea. "Samsung doesn't want to help nurture a second Google," a source said, adding that Google (NASDAQ:GOOG) is now a formidable rival for Samsung in the handset business. Facebook also lacks the "kind of premium image that Samsung is seeking to carve out," the Korea Herald adds.

LinkedIn (NYSE:LNKD): LinkedIn looks like it's in position to join Facebook and Twitter with a single sign-on system, revealed by code from the iOS 7 beta release. What's unclear is Apple's (NASDAQ:AAPL) intentions for LinkedIn — certain pieces of code that are critical for use in iOS 7 are missing, and the code might disappear after internal testing, according to 9to5 Mac.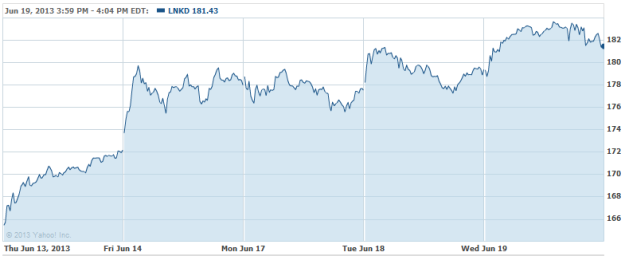 Yelp (NYSE:YELP): Yelp faces a renewed challenge from fellow local-content generator Google (NASDAQ:GOOG), which is implementing an interactive 'carousel' of local businesses when PC searches are made for local info. "And you can zoom in on the map that appears below the carousel to restrict your search to only places in a specific area," Google boasted. Investors don't appear concerned, as Yelp shares are up over 4.3 percent.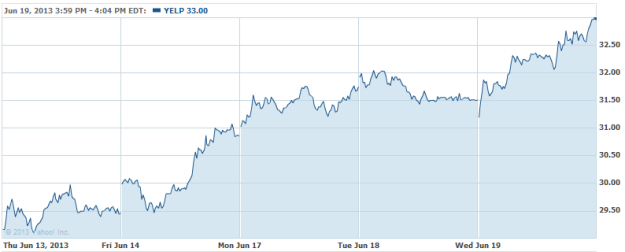 Don't Miss: Would a Samsung Partnership Appease Facebook Investors?