3 Buzzing Social Media Stocks: Twitter Raises IPO Price, Pandora Endures iTunes, Instagram to Debut Ads
Twitter Inc. (NYSE:TWTR): It appears that Twitter is rapidly shedding its formerly conservative initial public offering strategy; the company, which originally set its shares at a range that put it at a 27 percent discount over Facebook, has now raised its IPO price to $25 per share. The news leaves many investors skeptical given that Twitter's membership base is currently a fifth the size of Facebook's and the company isn't anticipated to make money until 2015.
Pandora Media Inc. (NYSE:P): Pandora appears relatively impervious to rival iTunes Radio, a launch which garnered much speculation regarding Pandora's ability to withstand the challenger. But on Tuesday, Pandora revealed that its market share actually increased after Apple unveiled its competing service, iTunes Radio. Further, listening hours grew by 9 percent, Pandora said: "October data was in line with our expectations and showed the resilience of our business."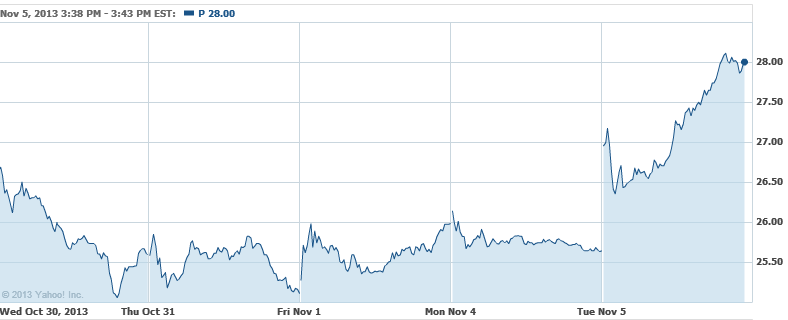 Facebook Inc. (NASDAQ:FB): Facebook-owned Instagram will begin running advertisements starting Friday, with the first official ads debuting from fashion brand Michael Kors. The company has been ad-free for three years and is said to be approaching its new venture into monetizing the company with a "highly curatorial approach," hoping to "deliver magazine-quality advertisements that it hopes audiences will enjoy."

Don't Miss: 5 Roles That Led to Matthew McConaughey's Turnaround.