3 Buzzing Social Media Stocks: Twitter Soars on Debut, Facebook Adjusts Ratings, Groupon's Mixed Quarter
Twitter Inc. (NYSE:TWTR): Twitter's big day has finally arrived, and it hasn't disappointed: After pricing its initial public offering at about $26 per share, the stock opened its New York Stock Exchange debut at $45.10, even weathering a downgrade to Sell from Pivotal Research's Brian Wieser, who cited a valuation call. In late afternoon trading, Twitter remains 75 percent up on the day and has officially avoided a repeat of Facebook's botched IPO attempt last year.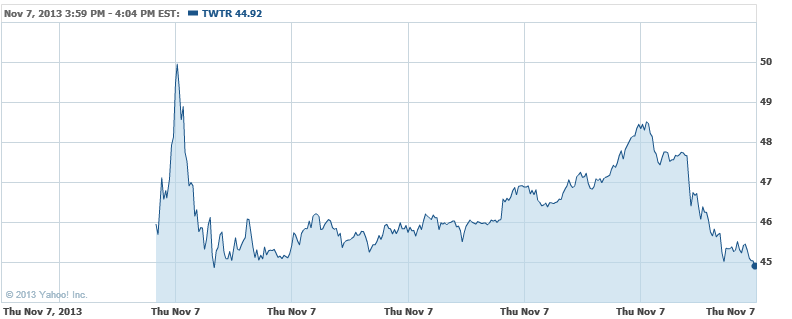 Facebook Inc. (NASDAQ:FB): Facebook has reportedly been experimenting with a small movement of its five-star business ratings, putting the system directly below the company's name on Pages. While this seems like a small step, it demonstrates an interest in putting the ratings system front and center, CNET reports, and the company is perhaps firing a warning shot over the bow of Yelp Inc. (NYSE:YELP), which has based its entire model on rating businesses.
Groupon Inc. (NASDAQ:GRPN): Shares of Groupon are slumping more than 7 percent in after-hours trading as the website reports a mixed quarter that saw EPS of 2 cents beat by 1 cent and revenue of $595.1 million missing by $20.6 million. Groupon is now expecting fourth-quarter revenue of $690 million-$740 million against a $723.7 million consensus; EPS is expected to fall at a flat -2 cents, well below a 6 cent consensus. On a side note, Groupon will be buying South Korean deals provider Ticket Monster from LivingSocial for $100 million in cash and $160 million in stock.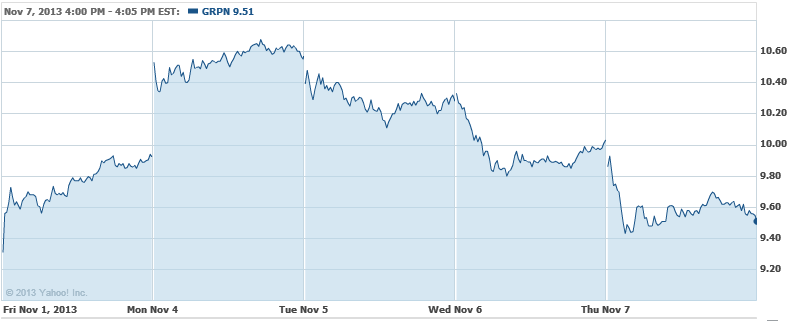 Don't Miss: Twitter's IPO and the Case for Waiting.