3 Buzzing Social Media Stocks: Twitter Ups IPO Price, Groupon Rides an Upgrade, Facebook Settlement Holds
Twitter Inc. (NYSE:TWTR): Strong demand for its not-yet-released shares has led Twitter to hike its price for its initial public offering: The social media company is now asking $23-$25 per share, up from the rather conservative initial bid at $17-$20. Twitter still expects to price its IPO on Wednesday and begin trading on Thursday; it's now positioned to raise $1.61 billion-$1.75 billion by moving 70 million shares and boast an IPO valuation of $12.5 billion-$13.6 billion.
Groupon Inc. (NASDAQ:GRPN): Deutsche Bank issued a note on Monday in which it recommends using the 20 percent pullback in shares of Groupon since late September as a buying opportunity. The firm expects Groupon's results to be within its guidance range and sees the company as one of the best long-term plays in mobile and local. The firm has a Buy rating on the stock and a $17 price target.

Facebook Inc. (NASDAQ:FB): The U.S. Supreme Court has declined to hear a case involving Facebook's $9.5 million settlement for its Beacon program, letting the settlement stand, though Chief Justice John Roberts expressed concerns about the particular type of settlement in the case. Facebook was sued by a group of class-action plaintiffs who alleged that Facebook's now out-of-commission Beacon service violated its members' privacy rights.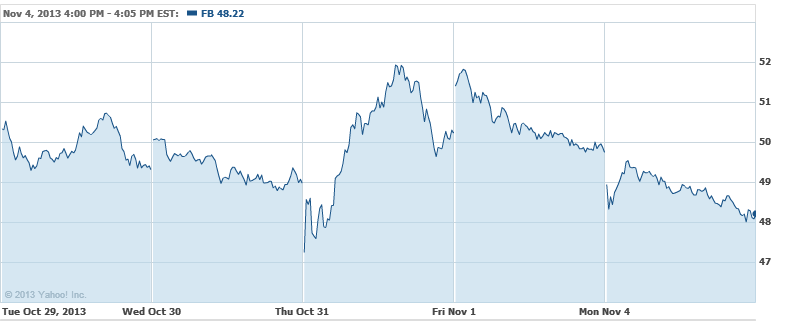 Don't Miss: The 5 Best October Box Office Totals of All Time.