3 Charts Revealing the Weak Consumer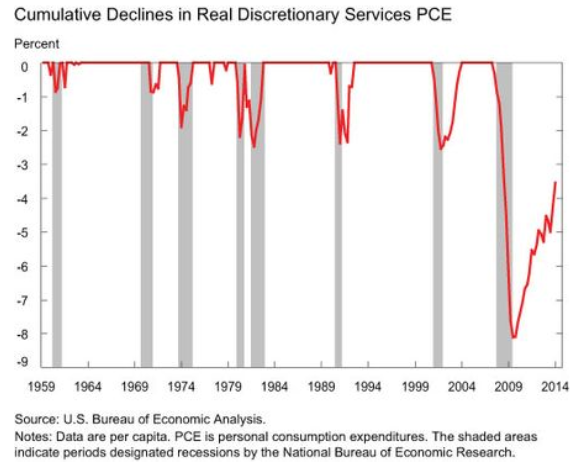 Consumer spending is widely considered to be the lifeblood of the economy. When Americans lack confidence about their financial prospects and take steps to reduce expenditures, businesses tend to take notice. Spending has improved since the depths of the financial crisis, but it remains well below previous business cycles.
The weakest economic recovery in modern history continues to take its toll on consumers. According to a recent analysis from the New York Federal Reserve, discretionary expenditures are nowhere close to recapturing their previous level made before the Great Recession. In fact, as the chart above shows, they are still below the troughs made during past economic declines since 1959.
"The recovery over 2013:Q4 and 2014:Q1 has been sizable, moving from about 5 percent below the previous peak to about 3.5 percent — among the more rapid improvements since 1959. However, it is also evident that the recovery in these expenditures still has a considerable way to go to return to pre-recession levels: 3.5 percent below the previous peak is still considerably worse than the troughs of previous business cycles," writes Jonathan McCarthy, vice president in the Federal Reserve Bank of New York's Research and Statistics Group.
Let's take a look at two more charts that reveal how slow the recovery has been this time around.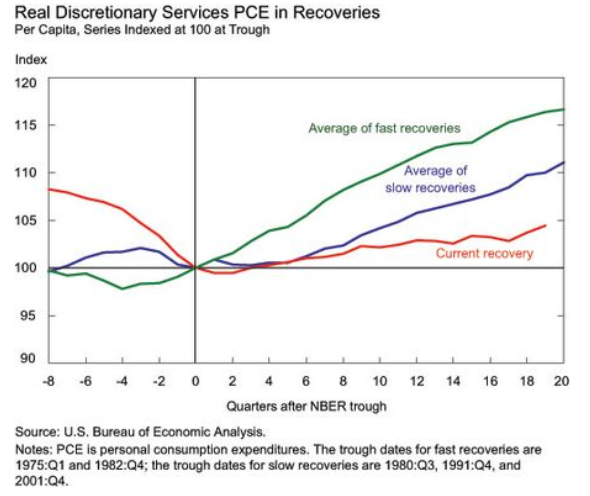 Discretionary Services
Although the Great Recession technically ended more than five years ago, real discretionary services per capita still lags behind. As of the first-quarter of 2014, these expenditures were only 4.4 percent above their level at the recession's trough. Discretionary services includes categories such as recreation, transportation, and food services such as restaurants.
"In contrast, at this point in the average slow recovery, these expenditures were 10.0 percent above the level at the recessions' trough, and in the average fast recovery, 16.4 percent," notes McCarthy.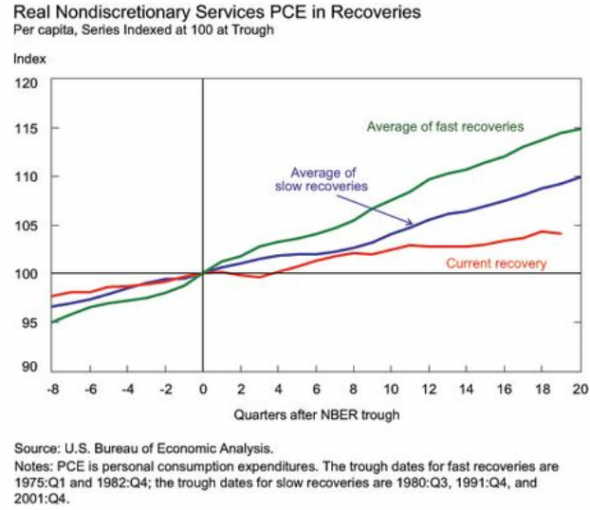 Non-discretionary Services
Non-discretionary services spending was only 4.1 percent above the level at the last recession's trough, as of the first-quarter of 2014. This compares to 9.2 percent for the average slow recovery and 14.4 percent for the average fast recovery. Non-discretionary services expenditures are defined in three broad categories: housing (tenant rent and owners' equivalent rent), financial services without payment (as these are implicit expenditures), and healthcare.
"The sluggish pace of recovery for both discretionary and non-discretionary services expenditures suggests that the fundamentals for consumer spending remain soft. In particular, it appears that households remain — almost five years after the end of the recession — wary about their future income growth and employment prospects. Consequently, a positive resolution of these issues seems necessary before a stronger services and overall consumer spending recovery can be sustained," explains McCarthy.
The results are hardly surprising given the state of affairs with many households. In a separate report, the Federal Reserve finds that 34 percent of Americans say they are financially no better off than five years ago, while 22 percent say they are somewhat worse off. Twelve percent say their finances are much worse. Meanwhile, the majority of Americans expect their income to stay the same over the next year or actually decline.
Follow Eric on Twitter @Mr_Eric_WSCS
More From Business Cheat Sheet:
Want more great content like this? Sign up here to receive the best of Cheat Sheet delivered daily. No spam; just tailored content straight to your inbox.