3 Chip Stocks to Note Now: AMD's Console Opportunity, Intel's Big Blunder, and Nvidia Gains While Others Fall
Advanced Micro Devices (NYSE:AMD): Given its opportunity to sell semi-custom chips into the game console market, UBS has raised its price target from $2.75 to $4.50, but maintains its Neutral rating due to balanced risk/reward.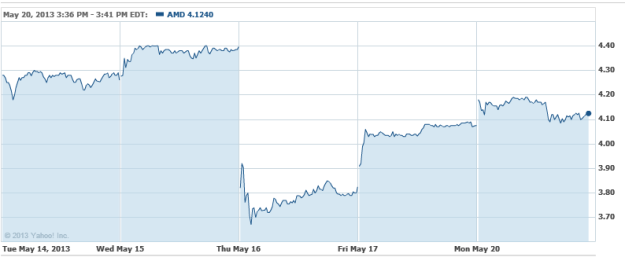 Intel Corp. (NASDAQ:INTC): Outgoing CEO Paul Otellini has made a somewhat startling confession: in 2005, Intel was approached by Steve Jobs, who asked Otellini and the chipmaker to produce the processors necessary for Apple's (NASDAQ:AAPL) upcoming iPhone, to which Otellini refused on the basis that Apple was offering less than Intel's forecast cost for the hardware. However, the forecast was a blunder — a substantial one at that, as it would have made the company about $100 billion. Now, new CEO Brain Krzanich has pledged to get the company on its feet in the mobile industry.

Nvidia (NASDAQ:NVDA): Though Intel saw GPU sales decline and AMD saw saws lay flat, Nvidia surprised the industry by showing sales gains, even amid a tanking PC industry. Intel fell by 5.3 percent; AMD posted a 0.3 percent decline, while Nvidia gained 3.6 percent for GPU sales, indicating that not all units are equal. Jon Peddie Research, which compiled the data, did not account for smartphone or tablet chip sales — however, Nvidia would more than likely have fared even better, as its Tegra 3 chip can be found in Google's (NASDAQ:GOOG) previous Nexus 7 tablet.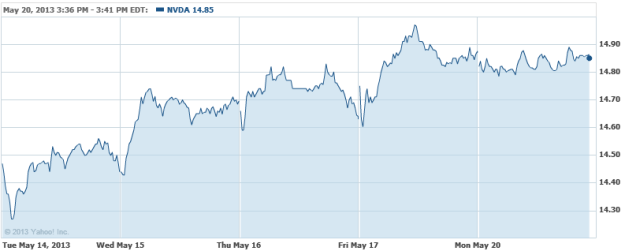 Don't Miss: Dell's Results Were Not Enough, Icahn Wants to Know More.