3 Chip Stocks to Note Now: AMD's First ARM Chip, Intel's Next Haswell, and Qualcomm's Device Premium
Advanced Micro Devices (NYSE:AMD): The company's first ARM based CPU, nicknamed Seattle, will go into production during the second half of 2014, the company said in a statement. Seattle CPUs will feature 8 or 16 of ARM's (NASDAQ:ARMH) high-end Cortex A57 cores, and each will run at at a minimum of 2GHz. AMD says that the chips will "offer 3-4x the performance" of its new Opteron X-Series components, and will include 10G Ethernet links and SeaMicro's Freedom Fabric technology.


Intel Corp. (NASDAQ:INTC): Reports are indicating that Intel's Haswell-E chip will sport eight cores, as well as a quad channel DDR4 memory controller, as the company gears up for a fresh wave of competition on the high-end desktop platform. The Core i7 "Haswell-E" central processing units will pack six or eight x86 cores with Haswell micro-architecture and Hyper-Threading technology, 20MB of L3 cache, as well as Turbo Boost 2 technology.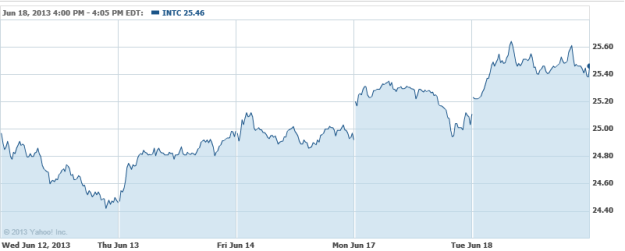 Qualcomm (NASDAQ:QCOM): A new study indicates that devices loaded with Qualcomm processors generally command a premium subsidy over devices with components from other chip makers, according to ABI Research. Qualcomm tends to run an average implied subsidy of $530, compared to $341 for other IC vendor based products, indicating that Qualcomm has a firm grip on the high-end device market, which remains the most profitable part of the mobile device industry.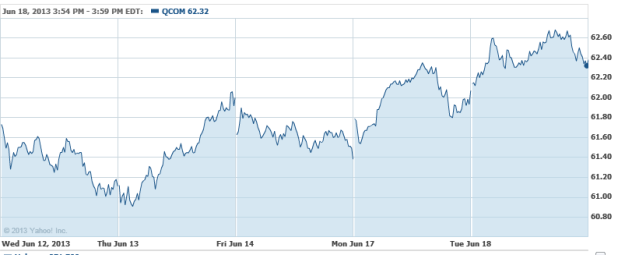 Don't Miss: Are Google, Apple, and Samsung Focused on the Wrong Goals?