3 Chip Stocks to Note Now: AMD's Huge Xbox Contract, Intel's Haswell Gets Better and Better, and Qualcomm Asserts Its Dominance
Advanced Micro Devices (NYSE:AMD): Having its units built within Microsoft's (NASDAQ:MSFT) Xbox One console might be a far bigger deal than previously thought, as an executive's LinkedIn page revealed that the multi-year agreement could be worth over $3 billion. AMD has gained significant ground in the console industry, at the expense of rival NVIDIA (NASDAQ:NVDA) in a competition which has turned sour between the two companies.
Intel (NASDAQ:INTC): The latest report on the Haswell line of processors indicates that the new chips will sport a voltage regulator, potentially eliminating as many as seven external third party chips. The power savings likely came at the detriment to the possibility of higher data rates, as power is a major focus for Intel given its rising competition in tablets and servers with generally lower power chips based on ARM cores.
Qualcomm (NASDAQ:QCOM): Strategy Analytics has revealed that Qualcomm's grip on the baseband market has tightened, as the company now had about 97 percent of the LTE baseband market for the first quarter, and a 59 percent share of the baseband market overall. The global baseband market lifted 18.5 percent, for a value of roughly $4.6 billion.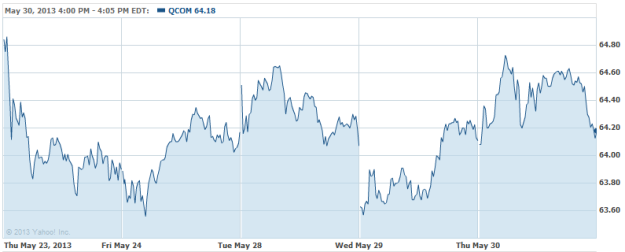 Don't Miss: Can Microsoft's Xbox Change Fans' Opinions at E3?