3 Chip Stocks to Note Now: ARM Holdings Brings New Goods, Intel Tackles Notebooks, and NVIDIA Considers Acquisitions
ARM Holdings Plc (NASDAQ:ARMH): ARM has prepped its Cortex-A12 core that will find its way into midrange smartphones for 2014, The Verge is reporting. The new core will offer 40 percent more performance over the incumbent Cortex-A9, which appears in chips like the Tegra 3. Interestingly, it will be built alongside the smaller Cortex-A7 in ARM's big.LITTLE configuration, which will allow a sort of duel function within the chip. The phone can use the A12 when it needs power, but then switch over to the A7 when increased battery life takes precedence.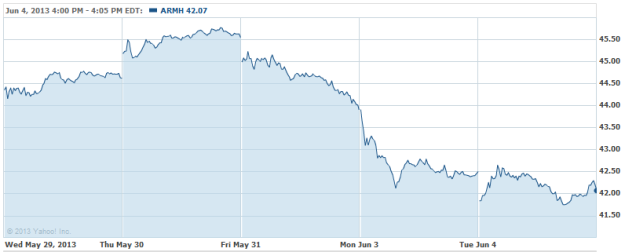 Intel (NASDAQ:INTC): On the heels of its latest Haswell release, Intel has also pulled the cloak off of another dozen — at least – CPUs with  notebooks and tablets/convertibles in mind. The company promises an 11 percent increase in ultrabook performance relative to the former Ivy Bridge chips, as well as  seven or more days of standby time.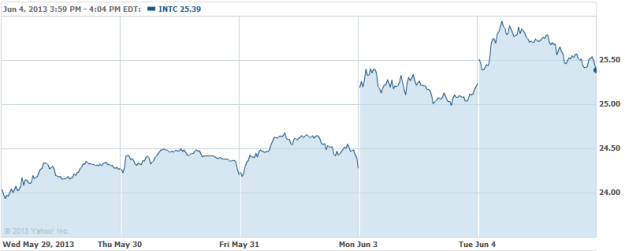 NVIDIA (NASDAQ:NVDA): CEO Jen-Hsun Huang made no qualms about the company using merger and acquisition activity as a means to secure technologies, when speaking at the Computex trade show. Huang told The Wall Street Journal that the company is interested in technologies that "fit into its businesses," but declined to give further specifics.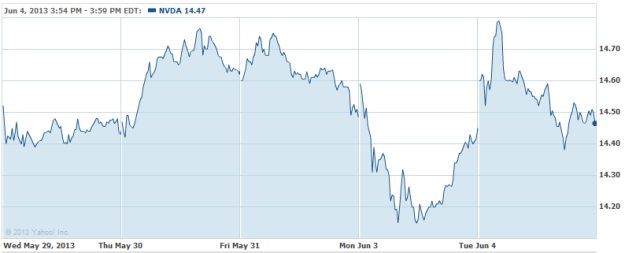 Investing Insights: What Will Shield Do For Nvidia?