3 Chip Stocks to Note Now: ARM Holdings Has Potential, NVIDIA Raises the Stakes, and Intel's Unlikely Customer
ARM Holdings (NASDAQ:ARMH): In light of Tuesday's analyst day, Canaccord raised its estimates for the company after its management pointed out strong long-term royalty and market growth opportunities into high and low tier smartphones. Canaccord also believes it is well positioned to benefit from increasing emerging market feature phones, tablets, and high-tier smartphone refreshes. It rates the shares at Buy with a $56 price target, up from $52.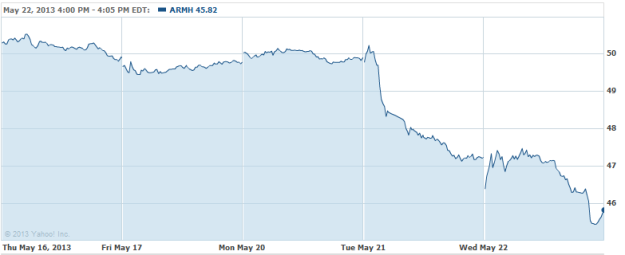 NVIDIA (NASDAQ:NVDA): Nvidia has made some improvements to its Tegra 4i platform, notably the addition of LTE-Advanced support. NVIDIA notes that because of its "software defined radio technology" it can add support for new technologies with a simple software update, making the chip more future-proof than its competitors'. Steep competition has companies scrambling to stay ahead of the game, which now has a strong mobile-based focus.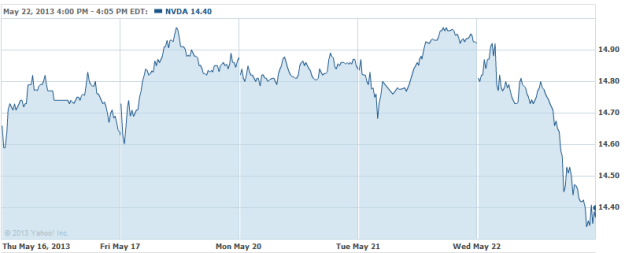 Intel (NASDAQ:INTC): As companies scramble to get their hardware into the next big device, Intel seems to have won the latest round, as it was revealed that its Atom chip was found in the next generation of Samsung's (SSNLF.PK) Galaxy tablet, set to make its debut at Computex in a couple of weeks. Stranger still, the Korean firm has a chip of its own that it could use, but Geek suggests that Samsung has called on Intel to avoid supply-and-demand-related issues.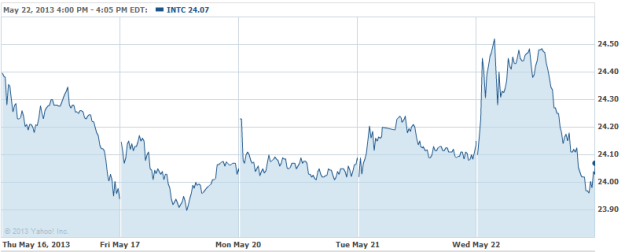 Don't Miss: How Will Intel's New CEO Shake Up the Company?