3 Chip Stocks to Note Now: ARM Shares Sink, NVIDIA's New Graphic Power House, and AMD's Latest Mobile Chip
ARM Holdings (NASDAQ:ARMH): Shares of the microchip firm in London slipped further, based on concerns of steeper competition. A downgrade from Exane BNP further pushed the shares down, bringing the weekly slide to 9.2pc. Similar skids have been observed for the ARM shares in the Nasdaq, and analysts at Exane argue that Intel's (NASDAQ:INTC) Silvermont platform "could mark the end of ARM's monopoly on smartphones and especially on tablets".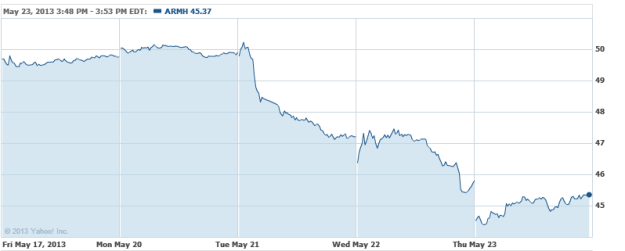 NVIDIA (NASDAQ:NVDA): In order to reach a wider market than the one for its $1,000 GeForce GTX Titan graphics card, NVIDIA has now released the GeForce GTX 780 — a more accessible $649. The company claims that the GTX 780 will offer an average of about 35 percent better graphics performance than its outgoing predecessor, the GeForce GTX 680, which is now a year or so old.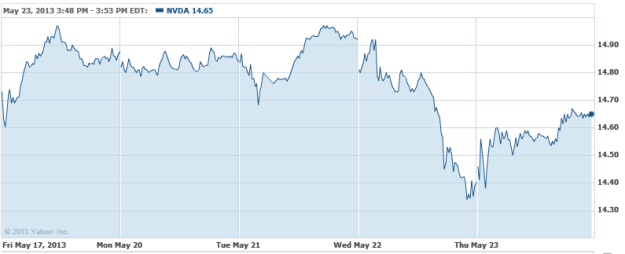 Advanced Micro Devices (NYSE:AMD): The company has announced the release of its Elite Mobility APU, the world's first 28-nanometer, quad-core x86 system-on-chip APU designed for implementation in small touch-enabled notebooks, tablets and hybrids with a screen that is 13-inches and smaller. The chips — which went by the code name Temash — are said to offer 172 percent better CPU performance per watt, and up to 212 percent better graphics performance per watt than its predecessor.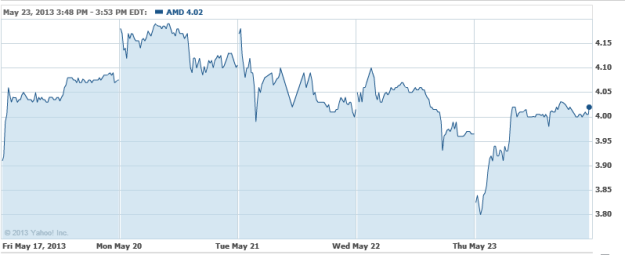 Don't Miss: Does Intel Have Upside Potential?