3 Chip Stocks to Note Now: ARM Takes a Hit, Nvidia's Shield Update, Qualcomm Favors Nokia
ARM Holdings (NYSE:ARM): Benchmark Co. downgraded ARM Holdings to Hold from Buy after lowering its rating on the semiconductor sector to Market Weight from Overweight; the firm lowered its price target for shares to $50 from $54, saying that ARM Holding's valuation multiple may make its shares susceptible to underperformance.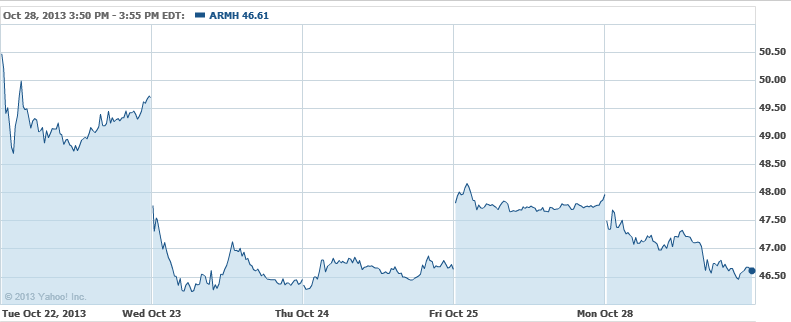 Nvidia Corp. (NASDAQ:NVDA): The Nvidia Shield got an update on Monday in which the console can now run thousands of Android games that previously were not compatible with the device. Users can either set up their own controls or use those that are packaged in from Nvidia to run the games, which were originally intended for Android phones but can now be run on the more game-focused Shield, as well.

Qualcomm Corp. (NASDAQ:QCOM): Qualcomm executives have claimed that the Nokia Lumia 2520 is a better device than the Microsoft Surface 2, saying that the Nokia tablet has superior all-around performance capabilities. Though the executives were able to cite some empirical data in their claim, they are not exactly unbiased observers; Qualcomm makes the chip inside the Lumia 2520, whereas Nvidia manufactures the chip inside the Surface 2.

Don't Miss: Chinese Smartphone Maker Introduces Knockoff of Apple's iPhone 5S.