3 Chip Stocks to Note Now: Broadcom's Dividend, Nvidia's Gaming Console, and Qualcomm's CIO Slips Up
Broadcom (NASDAQ:BRCM): The company has declared an $0.11 per share quarterly dividend, falling in-line with its previous one. It has a forward yield of 1.20 percent, for shareholders on record on May 31, and it is payable on June 17, with an ex-dividend date of May 29.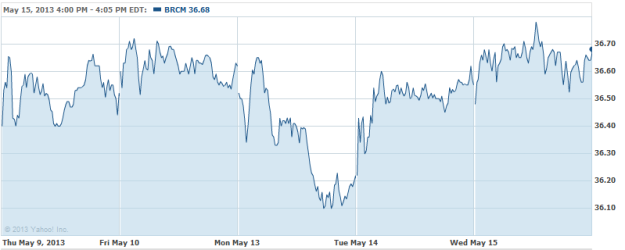 Nvidia (NASDAQ:NVDA): Nvidia's Shield Android gaming console will hit markets at the end of June, at a hefty $349 per pop — a healthy premium over its handheld competition from Nintendo and Sony (NYSE:SNE). The Shield will run on Android's JellyBean platform, is powered by Nvidia's Tegra 4 processor, will offer 16GB of storage, stereo speakers, a 5-inch 720p display, and Xbox-like controller. Users can download Android games from Google's (NASDAQ:GOOG) Play Store, or from Nvidia's own Tegra Zone.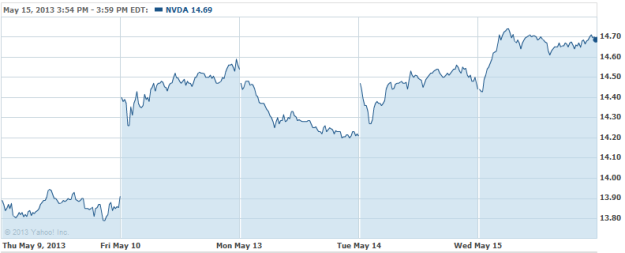 Qualcomm (NASDAQ:QCOM): In efforts to commend the rise of cloud computing and its advantages overtraditional server setups, the Chief Information Officer of Qualcomm might have slipped up a bit when he called Oracle (NASDAQ:ORCL) a dinosaur. It wasn't so much the reference to extinction that was the issue, but rather his support of NetSuite. CIO Norm Fjeldheim said that companies like Oracle should be genuinely worried about cloud solutions firms like Netsuite, not realizing that Oracle chief Larry Ellison is the majority shareholder of Netsuite. This undoubtably set up an awkward dynamic for Netsuite CEO Zach Nelson, who used to call Ellison 'boss.'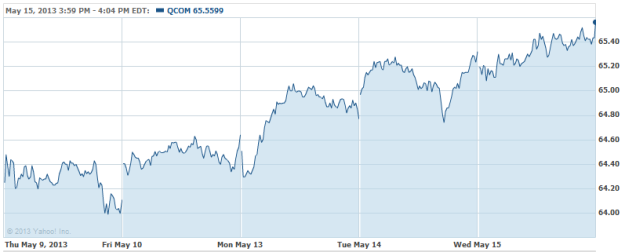 Investing Insights: Is This a New Frontier?