3 Chip Stocks to Note Now: Intel Rides Positive Outlook, Broadcom's New Product Line, and Thoughts on Qualcomm's Prowess In Mobile
Intel Corp. (NASDAQ:INTC): Shares are up on Monday morning after a bullish weekend piece from Barron's, which speculates that Intel could double over the next five years, as the company racks up market-share gains in tablet and smartphone chips, sees big demand for lucrative server chips, and PC sales stabilize. It should cut manufacturing costs and allow more wins in high-end foundry contracts, and slow the company's high capital spending rates.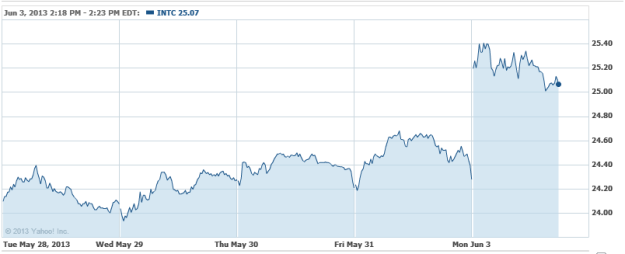 Broadcom (NASDAQ:BRCM): Broadcom has announced on Monday that it has launched a new — and industry's first — HomePlug AV2 power line system-on-chips, that deliver up to 1.5Gbps worth of data speed —  about three times the speed of the top existing power line devices. The AV2 uses an extended frequency band of up to 86MHz, in contrast to being previously limited to 30MHz in the HomePlug AV. The company also said that the new chips will support the latest Wi-Fi standards, the 802.11ac as well as the 802.11n, to offer an all-in-one connection solution.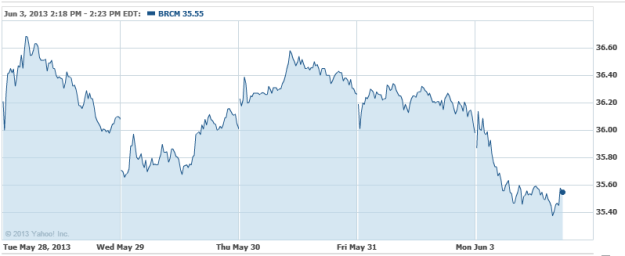 Qualcomm (NASDAQ:QCOM): Former Intel Senior Vice President Anand Chandrasekher was asked by AllThingsD's Ina Fried on why Qualcomm has been so tremendously successful in mobile, and he provided a rather thought provoking answer: think of the mobile chip industry as a triathlon, combining low-power processing horsepower, wireless know-how and graphics prowess. Then, think of Intel as Lance Armstrong — great on a bike (doping and enhancements aside), but not so hot in the marathon. Qualcomm, meanwhile, is a triathlete. As for his new employer, he says Qualcomm is "a company that is born mobile. This is a company that has reinvented itself over the past 20-plus years several times," he said.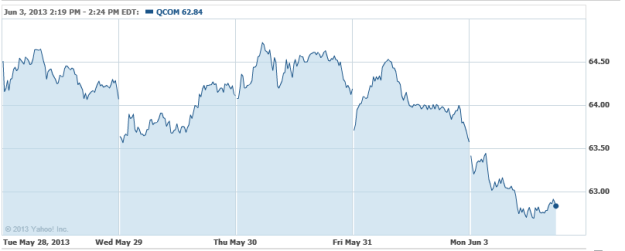 Don't Miss: How Many More Taxes Can Apple Dodge?