3 Chip Stocks to Note Now: Intel to Overclock SSD, Nvidia Finds Big Business, Broadcom's Broad Move
Intel Corp. (NASDAQ:INTC): Intel didn't just said that SSD overclocking is possible, but that the company will also demonstrate so at the at the Intel Developer Forum in San Francisco. ExtremeTech explains that "solid-state drives, like your DRAM or CPU, are driven by a clock — it should be possible to boost an SSD's performance by meddling with that clock, or perhaps altering the timings," adding, "Whether the overclock reduces stability and data retention/integrity, though, remains to be seen."

Nvidia (NASDAQ:NVDA): Despite its recent launch of the consumer-aimed Nvidia Shield, the graphics card company is also making big moves in the enterprise field. Dell, HP, and Cisco have all incorporated Nvidia's products into their own. Wedbush Securities analyst Betsy Van Hees said in a research note that Nvidia has 150 trials for its GRID cloud technology with 350 deals in the pipeline.

Broadcom (NASDAQ:BRCM): "There are, like, two companies that make half of all the smartphones on the planet," Broadcom CEO Scott McGregor said in an interview with AllThingsD. "I think wearables are going to be different." McGregor was responding to Broadcom's Tuesday decision to sell its wireless chips to tens of thousands of smaller companies rather than just the several dozen or so largest device makers, AllThingsD notes.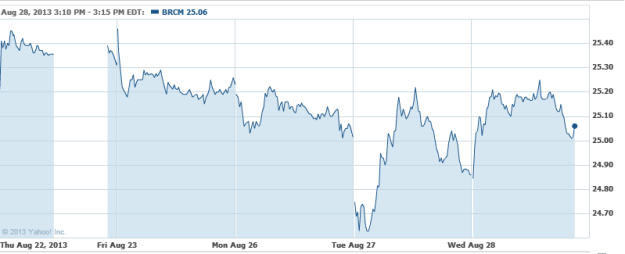 Don't Miss: Here's Why Microsoft Employees Are Very, Very Worried.