3 Chip Stocks to Note Now: Intel Will Bank on Mobile, Qualcomm's Wireless Charging, and Broadcom's Blue Ribbon
Intel (NASDAQ:INTC): Deutsche Bank finds that Intel is quickly gaining market share in the tablet world, following a report from Strategy Analytics the indicated Windows 8 amassed a 7.5 percent market stake in Q1. The firm claims that Intel's market share on Windows 8 tablets is over 90 percent, and it maintains a Buy rating on the shares with a $26 price target.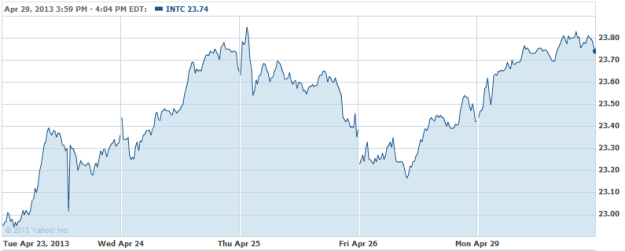 Qualcomm (NASDAQ:QCOM): Wireless charging, although still a new phenomenon, is seeing greater acceptance and is quickly catching on among major manufacturers such as Nokia (NYSE:NOK) and Samsung (SSNLF.PK). The technology involves placing the device — usually a phone — on a mat, that can charge the phone without needing to be plugged in. Qualcomm is hoping to introduce the next level of wireless charging, via a method that allows a gap between the mat and device. If successful, it could have a widespread impact in homes and businesses, where simply being near a cell in a wall (or table, and so on).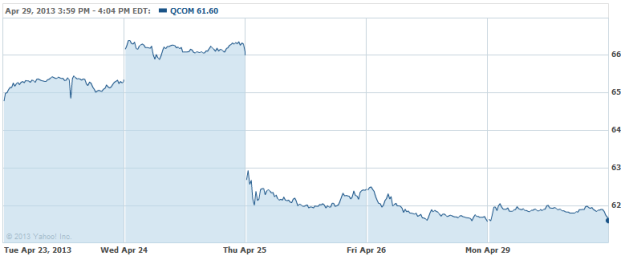 Broadcom (NASDAQ:BRCM): The semiconductor has reason to celebrate today, as its 5G WiFi chip for smartphones and tablets (affectionately titled BCM4335) has taken the first place prize at the UBM Tech EE Times and EDN Annual Creativity in Electronics (NYSE:ACE) Awards. Broadcom received the award for the Ultimate Products category in the ACE Awards. The blue-ribbon offering is up to six times more power efficient and provides nearly three times the speed of other WiFi connections available in the market.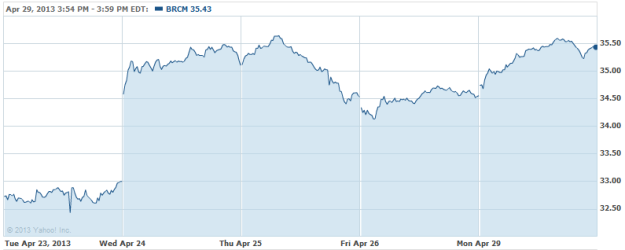 Investing Insights: Can Intel Continue to Soar Higher?