3 Chip Stocks to Note Now: Intel's Earnings, Nvidia's Pricing Power, AMD's Mantle Problems
Intel Corp. (NASDAQ:INTC): Intel reported its quarterly results on Tuesday night, with EPS of $0.58 beating by $0.05, and revenue of $13.48 billion, just sliding past projections by $0.01 billion. The PC Client Group reported a $3.26 billion operating profit, down 3 percent year-on-year. Software and services posted a $5 million loss, against a $4 million profit a year earlier. However, Data Center Group (server CPUs) had a third operating profit of $1.39 billion,  up 16 percent over 2012.
Nvidia Corp. (NASDAQ:NVDA): Nvidia may not have to lower its prices across its product range in order to compete with AMD's (NYSE:AMD) R7 and R9 graphics cards. "I thought Nvidia would lower its prices, but looking at the performance of [the other R7 and R9 cards], they don't really have to," a source told PCR. "There isn't much performance gained in the new AMD cards, so I don't think Nvidia will move — and if they do it won't be by much."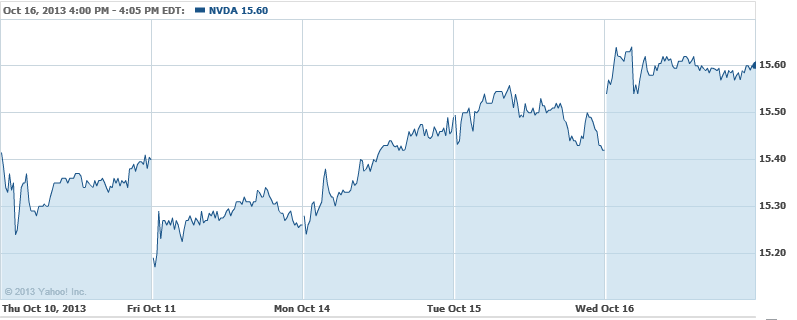 Advanced Micro Devices (NYSE:AMD): With AMD's Hawaii debut event last month, the company used the opportunity to introduce AMD Mantle, a new, close-to-metal API that would supposedly unlock huge additional performance and address many of the issues that plague DirectX, ExtremeTech reports. However, it appears that the Xbox One will not be supporting Mantle, and further, the PlayStation 4 isn't likely to either, calling into question Mantle's feasibility.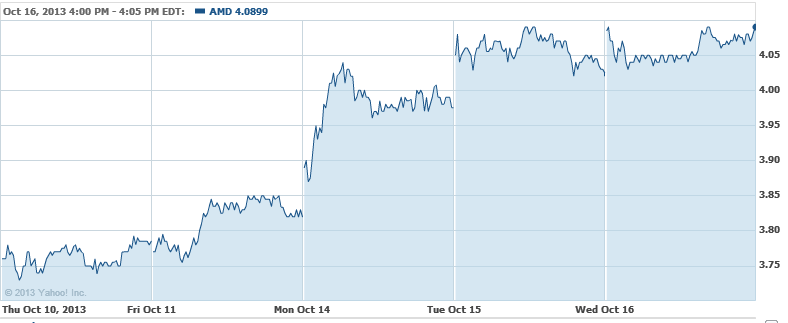 Don't Miss: Yahoo's Third-Quarter Earnings Beat the Bears.