3 Chip Stocks to Note Now: Intel's Haswell Is a Huge Leap, Broadcom Introduces the 5G Chip, and Qualcomm's Mobile Entrenchment
Intel (NASDAQ:INTC): The chipmaker has come straight out of the gate on the offense over its new Haswell chips, claiming they will boost battery life in laptops by 50 percent when compared to the Ivy Bridge, the Haswell's predecessor. Rani Borkar, corporate vice president and general manager of the Intel Architecture Group, said that the extended life to the battery will not affect the performance of the battery, and the Haswell chips have the caliber to perform better during the idle or standby mode of the device.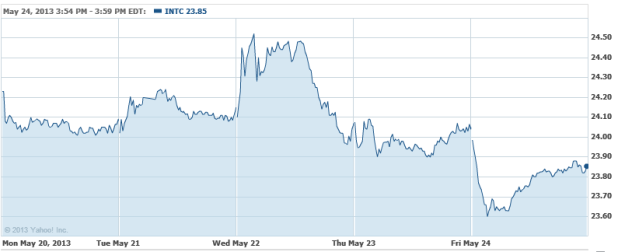 Broadcom (NASDAQ:BRCM): On Thursday, Broadcom unveiled a 5G Wi-Fi chip that can implemented throughout PCs, tablets, smartphones, and notebooks that run on the new 802.11ac wireless standard. "As the first company to deliver 802.11ac technology across all product segments, Broadcom is well positioned to capitalize on these opportunities by providing original equipment manufacturers (OEMs) an affordable solution that offers all of the performance, range and power advantages of 5G WiFi in a single-chip design," the company said.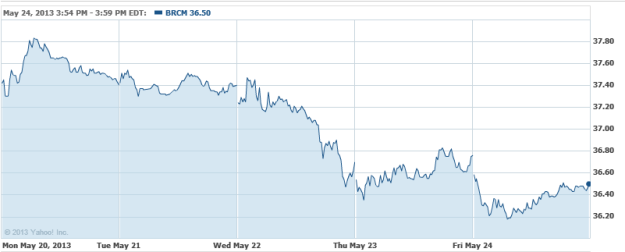 Qualcomm (NASDAQ:QCOM): Qualcomm is well positioned in the smartphone market, given that it collects royalties on all 3G and 4G smartphones, based on application service providers that are still a positive trend in the segment, according to Lazard vice president and senior analyst Ian Ing. "[Qualcomm sells] both chipsets as well as collect royalties on all 3G, and 4G smartphones that are being sold. I think the opportunity is still being underestimated. The royalties they collect are based on device ASPs for these handsets, and I think there is still a lot of support for very high device ASPs in these flagship smartphones," Ing said.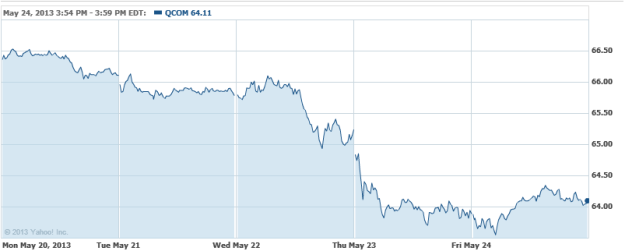 Don't Miss: Google Sets Sights On Amazon's E-Commerce Empire.