3 Chip Stocks to Note Now: Intel's Next Debut, Qualcomm Makes the Galaxy Tick, and Broadcom Finishes First
Intel Corp. (NASDAQ:INTC): Intel is gearing up to debut its latest line of Haswell processors at Computex on June 3, and as one would expect from progress, will be faster and more efficient than the current generation of processors. The company is facing declining PC chip demand and is looking for other channels to hold its revenue up, which may mean letting its margins slide, according to a report by Macquarie Research.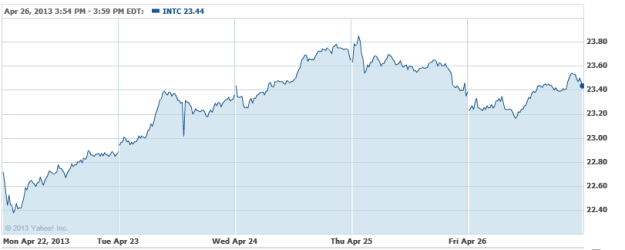 Qualcomm (NASDAQ:QCOM): The team over at iFixit recently did a strip-down inspection of the new Samsung (SSNLF) Galaxy S 4, and found that while the Korean company is counting to bank on the phone, Qualcomm will be walking away with a tidy sum as well. Six Qualcomm components — including the Snapdragon 600 1.9 GHz Quad-Core CPU — were found on the motherboard of the Galaxy, indicating that the California-based chipmaker is heavily entrenched in the phone's success.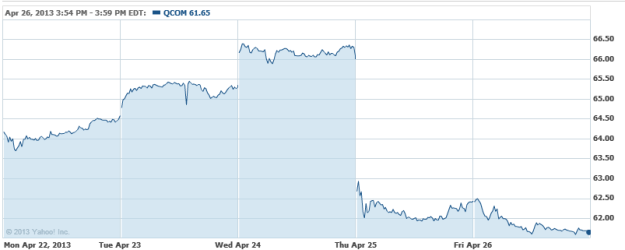 Broadcom (NASDAQ:BRCM): Reportedly, Broadcom has tied with STMicro (NYSE:STM) for first place in unit shipments for the worldwide set-top box IC market last year, as both companies delivered between 85 million and 86 million units.  "The set-top box IC market has continued to be in a strange over-reporting situation for four years," ABI Research practice director Sam Rosen said in a statement. "Vendors public claims and internal counts of STB SoC shipments exceed the number of set-top box shipments by 5 to 25 percent, depending on year, for each of the last four years, even after accounting for the separate chips integrated in complex set-top boxes." Given that high-end set-top boxes often include a video SoC, tuner/demodulator, MoCA chipset, and networking chip, Satellite Today notes, the adjacent smart set-top box market, along with possible blending of the STB and Digital TV markets could help explain some of the over reporting.

Don't Miss: Are Macs Better Than PCs at Being PCs?