3 Chip Stocks to Note Now: Intel's Sense of Optimism, AMD's Super PS4 Deal, Qualcomm's Investor Pledge
Intel Corp. (NASDAQ:INTC): An Intel executive said Tuesday that the company missed the boat on the recent shift to tablets and mobile devices, a misstep that has the cost the chipmaker and benefitted its rivals. The executive, Andy Bryant, said he is "personally embarrassed at the way we seem to have lost our way." But Bryant is optimistic about Intel's new CEO, Brian Krzanich, and points out the company's significant design win with Samsung's Galaxy tablet. The company is set to release two new chips – Sofia, due in the second half of 2014, and Broxton, due mid-2015 — which are aimed at the value and high ends of the market, respectively, moves that the company helps will get the chipmaker back on track.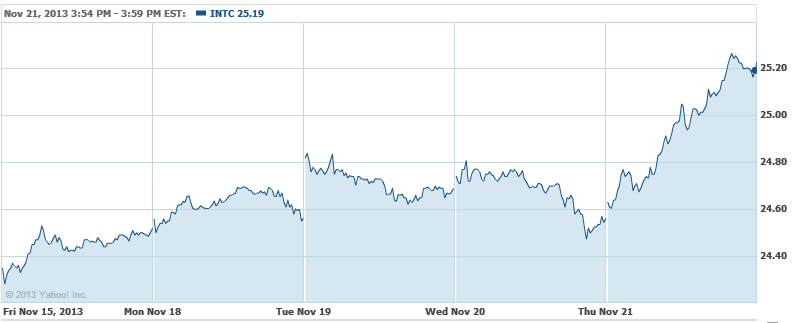 Advanced Micro Devices Inc. (NYSE:AMD): Both new gaming consoles, the Xbox One and PlayStation 4, are powered by AMD silicon. The processor of Sony's PlayStation 4 combines "an eight-core Jaguar architecture CPU with a 1.84TFlop Radeon GPU." This processor, paired with 8GB of GDDR5 RAM, puts the total cost of AMD's components at $188, which is just over half the bill of materials cost of the entire console, or around $381.

Qualcomm Inc. (NASDAQ:QCOM): Qualcomm CEO Paul Jacobs promised on Wednesday that the company would return 75 percent of its free cash flow back to it's investors through the use of stock buybacks and dividends. The news comes after a call from investors to distribute more profits to shareholders through firm commitments rather than simply occasional buybacks. Earlier this month, Qualcomm committed to buy back $4 billion in shares throughout fiscal year 2014, as well as $2.5 billion in dividends. Some on Wall Street have hoped, however, that the company would make even longer-term capital-return commitments.

Don't Miss: 7 Smartphone Apps for Better Buying Habits.