Intel Corp. (NASDAQ:INTC): Liberty Global (NASDAQ:LBTYA) is positioned to acquire Intel's online TV service that's currently under development, although sources said that the negotiations are still early and could fall apart. The chip maker has been developing the set-top box service since 2012 and began looking for partners when it shied away from making the "significant programming investments" on its own. Verizon Communications (NYSE:VZ) has also expressed an interest in acquiring the service, which is part of an initiative by Intel to deliver "more interactive content powered by its chips."

Qualcomm Corp. (NASDAQ:QCOM): Jefferies initiated coverage of Qualcomm on Tuesday with a Buy rating and an $80 price target, saying that Qualcomm's licensing business — QTL — is likely to fall above Street estimates for the 2014 calendar year due to the transition from the TD-SCDMA to the TD-LTE network. Further, the analyst believes the company will likely win the contract for the WLAN socket for Apple's (NASDAQ:AAPL) iPhone 6 and 6S, to the detriment of Broadcom (NASDAQ:BRCM).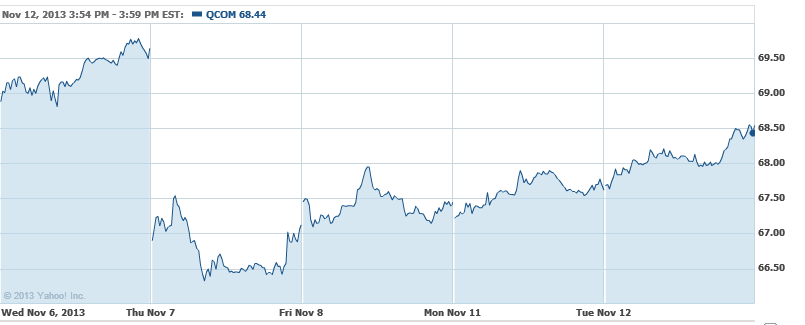 Advanced Micro Devices (NYSE:AMD): AMD announced Tuesdasy that its Kaveri APU is set to launch January 14 and will be shipping during the fourth quarter of 2013. The Kaveri is being championed as AMD's magnum opus to date, the kind of processor that the company has been building up to since 2006. It's a highly integrated CPU/GPU that "allows both of them to be leveraged nearly transparently by software," and is considered very developer friendly.

Don't Miss: The Top 6 Regions with the Most High-Tech Startups.